1934 - November 2, 2009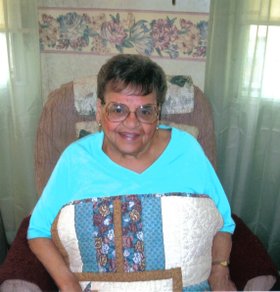 Angelina Schneider, 75, of Craig, died Nov. 2, 2009, in the presence of family.
She was born June 22, 1934, in San Jose, Calif., the daughter of Pasquale and Rosina DiManto.
She was a graduate of San Jose High School in 1953. She was joyously united in marriage to Douglas Arnold Schneider, Sr., on Nov. 19, 1955. Their marriage was blessed with two sons, Douglas, Jr., and Pasquale.
Angelina and Doug celebrated 51 wonderful years of marriage.
She owned and managed many floral shops in California and Colorado.
She was a member of the Ridgeview Church of God. She was known for her vibrant personality, sense of humor and love of family and friends.
Spending time with and sharing her fondness of Brach's Jelly Beans with her great-grandchildren brought her much joy in recent years.
She is survived by sons Douglas Arnold Schneider, Jr., and Pasquale Schneider; grandchildren Amanda (Tyrone) Ott, Gloria (Philip) Moore, and Jarrod Schneider; four great-grandchildren, Mackenzie and Makylee Ott, and Emily and Philip Moore.
Also surviving are brothers Vince, Al and John DiManto.
She was preceded in death by her parents, loving husband Doug, daughter-in-law Wendy Ann Schneider and three sisters, Mary, Elizabeth and Gloria.
Funeral services were Nov. 6, 2009 at the Ridgeview Church of God with pastor Buddy Baird officiating.
Special music selected was "He Washed My Eyes With Tears," by Jimmy Swaggart, and "I Want To Stroll In Heaven With You," by Alan Jackson. Honorary pallbearers were her family and all her many friends.
Memorial donations may be made to the Northwest Colorado Visiting Nurse Association and Hospice in care of Grant Mortuary.