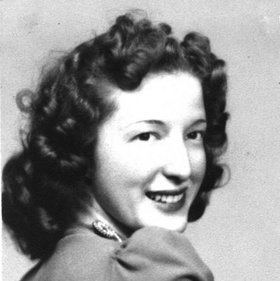 On May 15, 2009, surrounded by family and friends, Eloise Belva Miller Waters received a Christian burial, the culmination of a full and productive life. She was laid to rest beside her husband of 60 years, Billy Wilson Waters, at Craig Cemetery in Craig, Colo. Pastor Robert Woods, of First Congregational Church, of Craig, presided after the memorial service at the church.
Eloise Belva Miller was born in Greeley, Colo., to Catherine Ball and Bertram Miller on Aug. 9, 1920. She and her older brother, Wilbert, were raised in Overland Park, Kan. After graduating from Shawnee Mission High School, Eloise took a position at Hallmark Cards in Kansas City, Mo. Her adventurous spirit later took her to San Francisco, Calif., where she assumed the position of secretary to the president of Bank of America. While in San Francisco, she met Billy Wilson Waters, a handsome cowboy-Navy man from Craig. After a whirlwind courtship of four weeks and four days, they were married at First Presbyterian Church in San Francisco on May 15, 1943. Premature baby daughter, Sharon "Sherry," was born there. At the end of World War II, the little family moved to Bill's hometown of Craig, where they lived in the same building as Bill's grandmother, Effie Hunt. Their family was complete with the birth of a second daughter, Susan "News."
In addition to being a wife and mother, Eloise was employed in various positions in Craig after her youngest daughter entered first grade including the Colorado State Highway Department and Wiggins Photography Studio. Her longest held position was secretary and bookkeeper for Moffat County High School in Craig. She had a phenomenal memory and was able to recall the names of hundreds of MCHS graduates. She often said she never wanted to retire because she associated retirement with being old. As her circle of activities increased, she elected to retire in 1984.
Eloise was active in her church and community throughout her adult life. She was a member of First Congregational Church, the Order of Easter Star and Epsilon Sigma Alpha Sorority. She was an excellent seamstress and tailor and a master of crochet. She enjoyed the challenge of cooking foreign foods, was extremely well organized and ran an immaculate household.
Eloise placed education in high priority and was very proud of her two daughters and granddaughter, all of whom hold master's degrees. Before she got her computer, she read the Rocky Mountain News daily from cover to cover with the exception of the computer column. After she got her computer, she read that, too. She loved her computer games and kept in touch with family and friends via e-mail. She used her high-speed Internet to look up everything under the sun including partially diagnosing her medical symptoms before calling her doctor. She was a true techie and loved reading the "how to" manual before starting any project.
Throughout the years, Eloise became an excellent fisherwoman, challenging her husband in his lifelong love of the sport. She had a sense of adventure and enjoyed traveling as close as Black Mountain and White River and as far as Honolulu, Hawaii, and Machu Picchu, Peru. She loved painting and crafts of all kinds as well as card games and board games. While Bill still was alive, a daily game of cribbage was as much a ritual as their nightly cup of tea. She never missed a Broncos game and never took phone calls during playtime. She knew practically every player by name, number and playing history, and the games always were posted on the refrigerator where she kept a running tally of wins and losses.
Highlights in Eloise's life were the births of her granddaughter, grandson Grant Nickoloff and her five great-grandchildren. She loved her role as "Nana" to all of them. Her loving heart will be missed by her surviving family members: daughter, Sherry Nickoloff and husband, Jim, of Billings, Mont.; daughter, Susan Stussy, of Bakersfield, Calif.; granddaughter, Lori Winsinger and husband, Daniel, of Klamath Falls, Ore.; great-grandchildren, Elissa, Chelsea, Lindsey and Matthew Schwartzkopf and Lillian Winsinger, all of Klamath Falls; brother-in-law, Benjamin Waters and wife, Loleta, of Craig; and many nieces and nephews in the United States and Germany. Eloise possessed the gift - the gift of love, which she gave so freely to so many.
In memory of Eloise, a gift may be given to Centennial Home Care or Northwest Colorado Visiting Nurse Association in Craig, Colorado State Veterans Nursing Home in Rifle, or any charity of your choice, all in care of Grant Mortuary of Craig.