1919 - May 16, 2009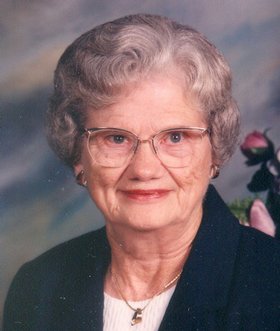 Ellen Arlene Bullard, 89, passed away May 16, 2009, at the Immanuel Lutheran Home in Kalispell, Mont.
She was born Sept. 16, 1919, in Pleasanton, Kan., the daughter of Thomas and Ethel (Troy) Davison.
She attended schools in Kansas and Missouri and graduated from Ottawa High School in Ottawa, Ill. She married Albin Sheme on January 18, 1941, and they had three children, Richard, Sherry and Thomas.
They relocated to Hayden in 1949, and they owned and operated Hayden Lumber for 12 years. Al passed away Oct. 3, 1969.
She later met Eugene Bullard, and they married Nov. 29, 1974. Eugene passed away March 5, 1995.
Ellen was employed at the Yampa Valley National Bank until her retirement in 1984. She was a member of the United Church of Christ and the Order of Eastern Star. After her retirement, she was a volunteer at The Haven, an assisted living community.
She lived with her daughter in Kalispell, Mont., for the past two years.
She was preceded in death by her husbands and son Thomas.
She is survived by her son Richard Sheme and his wife, Stephanie, of Castle Rock; and daughter, Sherry Sheme, of Kalispell, Mont; two grandchildren, Rhiannon and Quenton Sheme; step-children Marilyn Long and Calvin Bullard, and his wife, Denise, all of Utah; six step-grandchildren: Josh and Evan Bullard, Jeff and Greg Carter, Jada Stubbs and Sara Johnson.
A memorial service for Ellen is at 1 p.m. Tuesday at the Congregational United Church of Christ in Hayden.
Johnson-Gloschat Funeral Home in Kalispell is caring for Ellen's family. You are invited to go to www.jgfuneralhome.com to offer condolences and sign Ellen's guest book.