1924 - March 28, 2009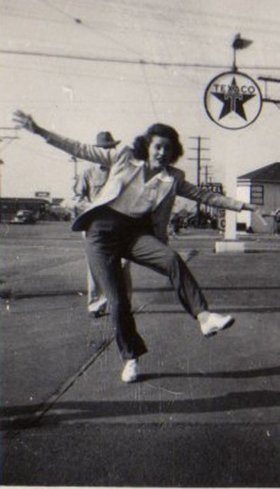 Doris Frances Wilson Thomas, 84, of Chula Vista, Calif., died March 28, 2009, of kidney and heart failure.
Doris was born Oct. 18, 1924, in Hoxie, Kan., the daughter of Charlie and Jessie Wilson.
She grew up in Craig and attended Moffat County High School. She and her best friend, Ruth White, rebuilt a Model T when they were only 14 years old.
She married Jack Thomas, another Craig resident, on Jan. 28, 1944, in San Diego.
In the first decade of their marriage, they built their home from scratch.
She worked as a riveter for Boeing in Seattle during World War II and later for Rohr in Chula Vista, Calif., where she and Jack later relocated.
Doris was known as a storyteller who dazzled people with her tales of days gone by.
Most of her stories featured characters she knew in Craig. She loved hummingbirds, Yahtzee! and preparing chicken fried steak, teddy bear bread, angel pie and homemade crescent rolls for her family.
She was a jitterbug, quilt maker, baseball player, teacher, short-order cook, writer and an amazing human being.
She was preceded in death by her husband, Jack Thomas, and son, Jack Wilson Thomas.
She is survived by her son and daughter-in-law, Tim and Linda Thomas; sisters Viola Smith, of Casper, Wyo., and Wanda Clifton, of Craig; brother Max Wilson, of Casper, Wyo.; grandchildren Melanie and Leo Ellis and Amanda and Ben Ratajesak; great-grandchildren Ian and Riley Ellis, and Jackson Hilding.
A sunset memorial service took place April 14, 2009, at San Elijo State Beach in San Diego, Calif.