1962 - February 8, 2009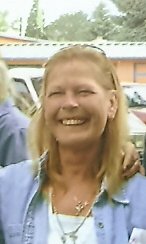 Julie Ann Mortensen died Feb. 8, 2009. She was born Feb. 23, 1962, in Grants, N.M.
Her parents were the late Clinton and Pauline (Cuny) Mortensen.
Julie married Richard Garcia in 1979 in Salmon, Idaho.
The couple has six children: Jessica Garcia, Joann (Lloyd) Gallegos, James Garcia, and Jeanie (Mike) Romero, all of Leadville; and Jody (Jeremy) Archuleta, of Minturn, Jennifer (John) Wilson, of Littleton, Richard (Martha) Garcia, of Silverthorne, and Nadine (Jeffrey) Mondragon, of Denver.
She adored her 18 beautiful grandchildren. Richard and Julie raised their family in Leadville, Craig, Kremmling, and Flagstaff, Ariz.
Julie was a great homemaker and a very good cook. She loved caring for her family. Her favorite hobby was her beautiful house plants. She also loved the outdoors.
She is preceded in death by her parents, grandson Kalin, granddaughter Eternity, and brother Daniel.
Julie is survived by brothers Dave (Tracy) Mortensen, of Ogalalla, Neb., Cliff (Veronica) Mortensen, of Leadville, Chris (Hazel) Mortensen, of Fairbanks, Alaska, and Carl (Monica) Mortensen, of Idaho Springs; sisters Janel (Carlos) Rios, of Vernal, Utah, Denice (Tim) Garcia, of Leadville, and Yvette (Bill) Puhl, of Craig, and numerous nieces and nephews.
The rosary was recited Feb. 11, 2009, and her funeral was Feb. 12, 2009, at St. Josephs Church in Leadville.
The pallbearers were James Garcia, Cliff Mortensen, Kevin Garcia, Carl Mortensen, Richard Garcia, Jr., Dave Mortensen, Daniel Garcia and Caleb Garcia.