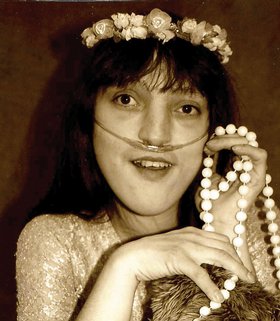 Betsie Elaine Madsen was born Dec. 27, 1981, at Kremmling Memorial Hospital to Pete and Connie (McLimore) Madsen. She passed away Feb. 17, 2009, at The Memorial Hospital in Craig.
Betsie was a most loving person. She loved almost everyone, especially her family. Her nieces and nephews were the most important part of her life, because they were her children.
Betsie loved camping, fishing, music, family barbecues, playing dolls, trucks, coloring and playing with her Legos for hours.
Betsie became sick at the age of three months, and the ventilator and medications caused her to have a long battle with respiratory problems. She lost the battle after 27 years.
Betsie had a unique personality. She played tricks on us, teased us and never lost her sense of humor. You could tease, and she would come right back at you. She never got mad about being teased.
Betsie is survived by her parents, Pete and Connie Madsen; brother, Earl Madsen, of Craig; sisters Jessie (Ricky) Harmon and Jeanine (Patrick) Perkins, both of Craig; nieces and nephews, Matthew, Sharice, Tristan, Brandon, Chastidy, Jordan, Cheyenne, Isaiah, Christopher, Conner and Corbyn; grandparents Earl and Louise McLimore and Ben and Marian (Jeff) Clark; and numerous aunts, uncles and cousins.
She was proceeded in death by her grandparents, Lucky and Betty Madsen and Louise Clark; aunt, Linda Madsen; and numerous aunts and uncles.