1961 - February 26, 2009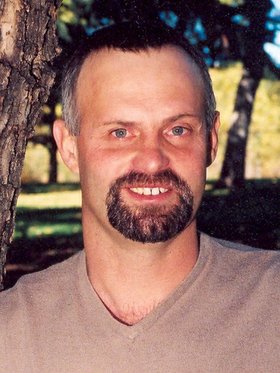 Dennis Scott Bittler, 47, made his transition Feb. 26, 2009. He was born May 16, 1961, in Craig. Suffering his absence are his wife, Katie, and son, Joshua; his father, Gene, of Maybell; sister, Debbie Davidson (Doug) and family, of Hobbs, N.M.; mother-in-law, Frances Smith, of the home; brother-in-law, George C. Smith (Samantha Oerter), of Colorado Springs; brother-in-law, Matthew C. Smith (Janelle), of Ft. Hood, Texas; and brother-in-law, Keith Smith (Stephanie), of Lancaster, Calif.
Scores of dear family and friends from all parts of Dennis' life, including his work family at Schlage Lock, celebrate his life and mourn his loss from their ranks.
With his departure from life on earth, Dennis has reunited with his beloved mother, Patricia, and brother, Gene Eric, Jr.
Dennis graduated from Craig High School in 1979. During his 20s, he served his country in the U.S. Navy and made Colorado Springs his home since the early '90s.
Dennis was an exceptionally devoted father to Joshua, taking care of him as a newborn and infant while Katie completed post-graduate studies in the evening hours, riding in the back seat with Joshie while Katie drove the car, making countless cups of chocolate milk, changing a multitude of diapers, giving daily baths, welling up listening to Joshie say grace, watching Spiderman videos from between Spiderman sheets, playing ball at the park, constructing backyard playground equipment, teaching love, laughter, gentleness, kindness, selflessness, patience and humility to his little "Pill," and realizing an immeasurable depth of joy and fulfillment doing so.
Besides Katie and Joshie, special joys in Dennis' life were nature and golf. Both provided him a freedom, serenity and closeness to his Creator that edified and grew him. Dennis also was an avid collegiate and professional sports fan.
Services were held at 4 p.m. March 5 at Advantage Chapel of Memories, 829 S. Hancock Ave., Colorado Springs.
Contributions in his name can be made to the National Suicide Prevention Hotline at www.sppppr.org or in Joshua's name at Ent Federal Credit Union, P.O. Box 15819, Colorado Springs, CO 80935-5819.
The family invites you to go to www.mem.com to sign the guestbook and/or create an audio tribute.