1921 - June 8, 2009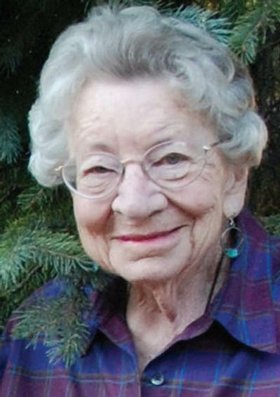 Florence Lorene Workman, age 88, passed away at the Yampa Valley Medical Center on June 8, 2009. The cause was cancer. She had been living in her apartment at Mountain Manor in Steamboat Springs.
Born Jan. 28, 1921, in rural Routt County, she was the daughter of Edward and Rosie Miles and the eldest of five children. She attended country schools in her younger years and graduated from Oak Creek High School in 1940. She was certified by Colorado State University in nutrition, health and food programs as an industrial food service professional.
Lorene married Lloyd R. Workman on Dec. 15, 1941. Two children were born to the marriage, Phyllis, while in Kansas, and Leland, in Steamboat. She lived in Routt County all of her life, with the exception of two years she spent in Fort Riley, Kan., where her husband was stationed with the military.
Lorene served as lunchroom supervisor in the Steamboat school system from 1953 until 1973. She took pride in making sure every child had a hot and nutritious meal every day. Of the many items she created and added to the menu, nothing was more popular than her famous "Pizza Pie" that she included in her lunches at a time when most had never heard of pizza. It and other favorites still are talked about today by former students. She also supervised the kitchens at Perry-Mansfield Performing Arts School and Camp and The Lowell Whiteman School for many years. She loved to bake and has made wedding, birthday and special occasion cakes for generations of Steamboat families.
Throughout the years, Lorene was a member of many clubs and organizations. She always was involved with her church, a 4-H leader, LRC's and volunteer work from children to seniors. She liked to tell stories about the early days in Routt County and provided firsthand information to the historical society and the museums. Among her interests, she enjoyed theater and music productions, painting, bowling, playing cards and, for those who remember her sweet peas, she had quite a green thumb in the garden. She had a great spirit of adventure that led her to travel worldwide with family and friends. Family was always the most important part of her life, and she loved spending as much time together as possible. Many a tasty meal came from her kitchen during the holidays.
She is survived by her son, Leland, and his wife, Linda, of Silverthorne; grandchildren Deborah (Bruce) Morrison, David (Mary) Snow, Thomas (Lori) Snow and Matthew Snow; six great-grandchildren and three great-great-grandchildren, all of Salt Lake City; sister Janet Selk, of Granby; brothers Elvin Miles and Gordon Miles, of Steamboat, and Ray (Viola) Miles, of Riddle, Ore; many nieces and nephews and other family members.
She was preceded in death by her husband, Lloyd Workman, and daughter, Phyllis Snow.
A memorial service is at 11 a.m. June 27 at the First Baptist Church of Steamboat Springs. Interment will follow at the Steamboat Springs Cemetery, with Pastor Jason Clark officiating. A luncheon and celebration of Lorene's life will be held at the Steamboat Springs Community Center.
For more information, you may call Leland or Linda Workman at 970-389-1571 or 970-485-5304.
Memorial contributions are welcome and should be mailed in Lorene's name to Routt County Council On Aging P.O. Box 770207, Steamboat Springs, CO 80477
Thank you to the doctors and staff of YVMC and to special friends who cared for Lorene during her illness.