1929 - May 30, 2009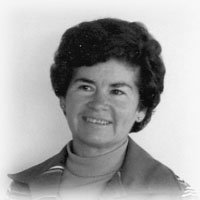 JoAnne Levkulich, of Grand Junction, died May 30, 2009, at St. Mary's Hospital. She was 80.
JoAnne was born March 10, 1929, in Craig to Edward Eugene and Mildred Richards Robinett. She spent her childhood in Craig and Steamboat Springs.
She graduated from Moffat County High School in Craig. On June 6, 1948, JoAnne married Pete Levkulich at First Christian Church in Craig, where she remained an active member and enjoyed her church activities there until she moved to Grand Junction 20 years ago.
She was a wife and mother who enjoyed swimming, skiing, sewing, gardening and golfing.
Survivors include her husband, Pete, of Grand Junction; son Rocky Levkulich, of Denver; daughter Judy Levkulich, of Oak Creek; brother Eugene Robinett, of Denver; four grandchildren and six great-grandchildren.
A funeral service took place June 5, 2009, at the Callahan-Edfast Mortuary in Grand Junction with Mervin Johnson officiating.
Pallbearers were Byron Levkulich, Chris Levkulich, Jason Snell, Frank Levkulich, Gary Schnurr and Kirk Schnurr. Honorary pallbearers were Kalen Snell, Connor Snell, Tom Robinett, Ron Wood, Brad Heykoop, Alec Schnurr, Adam Schnurr, Austin Schnurr, Tim Husky and Robert Knuckels.
Burial was at Craig Cemetery.
Memorial contributions may be made to the Pulmonary Fibrosis Foundation, 1332 N. Halsted St., Suite No. 201, Chicago, Ill., 60642-2642, or www.pulmonaryfibrosis.org. Arrangements are under the direction of Callahan-Edfast Mortuary.
The family remembers JoAnne with the following poem:
'To Those I Love And
Those Who Love Me'
When I am gone, release me, let me go.
I have so many things to see and do.
You mustn't tie yourself to me with tears,
Be thankful for our beautiful years.
I gave to you my love. You can only guess
How much you gave to me in happiness.
I thank you for the love you each have shown,
But for now, it's time I traveled on alone.
So grieve a while for me, if grieve you must.
Then let your grief be comforted by trust.
It's only for a time that we must part
So bless the memories within your heart.
I won't be far away, for life goes on
So if you need me, call and I will come.
Though you can't see or touch me, I'll be near.
And if you listen with your heart, you'll hear.
All my love around you, soft and clear.
And then, when you must come this way alone,
I'll greet you with a smile and say:
"Welcome home."