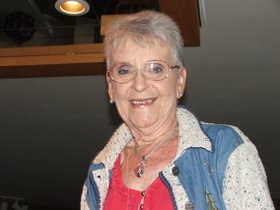 Delta resident Barbara Blevins, 82, died May 29, 2009, at the Hospice and Palliative Care Center of Western Colorado in Grand Junction.
A Celebration of Life Service for Mrs. Blevins will take place at 2 p.m. today at the Delta United Methodist Church.
Dr. Roy Trueblood will officiate. Services will conclude at the church. Private burial will be at the Veteran's Memorial Cemetery of Western Colorado in Grand Junction where she will be buried alongside her husband, Robert Bruce Blevins.
Barbara Fern Blevins was born Oct. 21, 1926, to William Dyer Pierce and Jessie Fern (Jacobsen) Pierce. She was born in Maybell and spent her childhood in and around Maybell and Craig. After high school in Craig, she attended Mesa State College in Grand Junction. Her first job was with the Internal Revenue Service in Denver.
After the war, Barbara married the love of her life, Robert Bruce Blevins, on June 16, 1946, in Craig, and they enjoyed 57 glorious years of marriage until his death in 2004.
They lived in Rangely for nine years; Kimball, Neb., for seven years; Glendive, Mont., for four years; Cody, Wyo., for nine years; Riverton, Wyo., for four years and then in 1980, moved to Delta where Barbara had resided until her death.
Barbara was always a busy lady.
She worked as a secretary for the old Stanolind Oil and Gas Company for many years, and in Glendive and Cody, she worked as a secretary for the school districts.
She was a talented woman with a love for music, singing, drama and acting. She participated in many amateur musicals and plays in Kimball, Glendive, Cody, Riverton and Delta.
She was a member of the Delta United Methodist Church since 1980 and was an active member in the choir and the bell choir. She was active in the Untied Methodist Women, a Member at Large of the church and participated in numerous committees throughout her years.
She was a member of Beta Sigma Phi since 1964 and held many offices and degrees in Perceptor Gamma Alpha. Her love of music brought her to the Delrose Chorus of Sweet Adelines and the Grand Mesa Choral Society. She was a faithful member of TOPS since 1978 and held several different positions with them.
Barbara's zest for new adventures, her love to travel and share the joys of new experiences and to meet new people took her many places around the world.
Barbara was a loving and caring daughter, sister, wife, mother, grandmother and great-grandmother with a tremendous sense of love for life itself.
She absolutely adored all her grandchildren and great grandchildren, and she spent as much time as she could with them. Those grateful to have shared in Barbara's life are her deceased husband, Bruce; sons Dr. Rick (Ginger) Blevins, of Great Falls, Mont., and Dave (Pilar) Blevins, of Castle Rock; daughters Cathie (Tom) Monahan, of Parker, and Karen (Bill) Bapst, of Fruita; sisters Rena Tucker, of Tucson, Ariz., and Donna (Lorain) Brady, of Mount Pleasant, Utah; and brother Roy (Carmie) Pitney, of Hayden.
She is further survived by 10 grandchildren, Mac Blevins, Sarah Bittner, Caitlin Blevins, Jennifer Blevins, Nicolas Blevins, Ryan Monahan, Mikaylee Monahan, Shelly Hurt, Shandee Talley, and Taya McCallum; nine great-grandchildren, Wyatt Hurt, Spencer Hurt, Brody Bittner, Paige Bittner, Callie Bittner, Sean McCallum, Tessa McCallum, Jordan Talley and Abby Talley; and numerous nieces and nephews and many close and special friends.
Memorial contributions may be made in Barbara's memory to the Delta United Methodist Church, PO Box 427, Delta, CO 81416 or to the Christian Children's Fund, 2821 Emerywood Parkway, Richmond VA 23294 USA, or www.christianchildrensfund.org.
Arrangements are under the care and direction of Taylor Funeral Services and Crematory.
View the Internet obituary, and sign the online guest registry at taylorfuneralservice.com.