1914 - June 23, 2009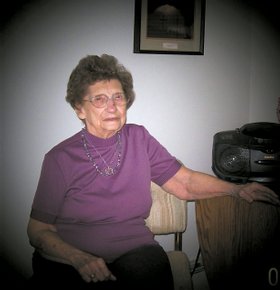 Lila Viola Millsap Stonebrink passed away June 23, 2009, at Yampa Valley Medical Center. She was 95.
Lila was born in Julesburg at her parents' ranch March 21, 1914. She graduated as valedictorian of her high school class of 1932.
She attended college in Greeley and graduated with a teaching degree. Lila moved to Steamboat Springs and taught at Cow Creek School in 1935 and at Hilton Gulch School in 1936.
She met and married Elwood Edward Stonebrink on Dec. 12, 1936. They lived in the Steamboat area until 1973.
Lila has been a member of the Steamboat Springs United Methodist Church since May 1960.
Lila and Elwood retired and moved to Eckert in 1973. Elwood died in 1975, and Lila later moved to Loveland and lived there until 1981, when she returned to Steamboat and lived at the senior apartments until 2008.
She then lived at The Haven Assisted Living Center in Hayden where she enjoyed life helping others as she could. Lila also enjoyed playing her piano and tending flowers, and she loved seeing her grandchildren, great-grandchildren and family.
She is survived by her daughter Vi Stonebrink Look, of Steamboat; son Darrell Elwood Stonebrink (Lyn), of Loveland; brothers Ivan (Opal) Millsap, of Denver, and Myron (Mary Alice) Millsap, of Utah; three sister-in-laws: Nina (Rusty) Borroz, of Washington, Gene Hodges, of Oregon, and Helen Stonebrink, of Fruita; two twin brothers-in-law: Earle (Nancy) Stonebrink and Berle (Peg) Stonebrink, of Oregon; eight grandchildren, 14 great-grandchildren and many nephews and nieces.
She was preceded in death by a brother, Leslie Millsap: parents Ellen and Oscar Millsap; husband Elwood Edward Stonebrink; and son in-law Dale Look.
Donations can be made to Steamboat Springs United Methodist Youth Group at P.O. Box 773748, Steamboat Springs, CO 80477; or to Steamboat Springs Hospice at 940 Central Park Drive, Suite 101, Steamboat Springs, CO 80487.
A graveside service is at 4 p.m. Aug. 2 at the Steamboat Springs Cemetery. In case of rain, the service will be at the United Methodist Church of Steamboat Springs.