1917 - June 30, 2009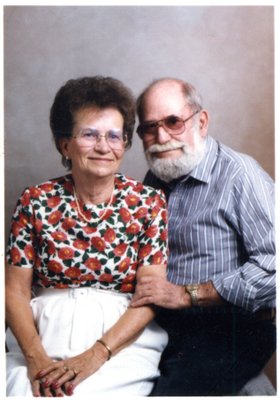 On June 30, 2009, one month short of his 92nd birthday at home in Las Vegas, after a brief illness, Berl "Ray" Crane died. He left his family to join his beloved wife, Kathryn. They now are in the care of their Lord and Savior.
Ray was born July 31, 1917, in Sheridan, Mont.
He was raised in Sheridan and New Meadows, Idaho, where he graduated from high school. He served in the U.S. Army during World War II. He worked as a supervisor in the power industry and also in the manufactured housing industry. He lived with his daughter, Kay, in Las Vegas after Kathryn's death.
He was preceded in death by his wife, and parents, Berl and Lillie Crane, of Cambridge, Idaho; and brother Robert (Francis) Crane, of Portland, Ore.
He is survived by five children, Pat (Tom) Haffner, of Boise, Idaho; Art (Betty) Crane, of Craig; JC (Ed) Wilkerson, of Windsor, Calif.; Kay Williams, of Las Vegas; Dee (Sharon) Crane, of Orangevale, Calif.; 11 grandchildren, 16 great-grandchildren, and six great-great-grandchildren.
Burial will be in Weiser, Idaho.