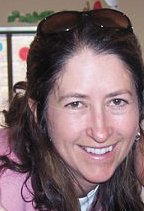 Rebecca Ann (Adams) Green, 40, of Steamboat Springs, died June 13, 2009, just below upper Fish Creek Falls. She drowned while trying to rescue her son, who had fallen in the creek.
Rebecca was born March 20, 1969, in Grand Island, Neb. She was the daughter of Eldon and Esther Adams, of Loup City, Neb. Her only sister is Jenifer Adams-Mitchell, of Dagsboro, Del. Rebecca was raised in Loup City and graduated from Loup City High School in 1987. She attended Kearney State College (now the University of Nebraska at Kearney) and graduated with a BA in speech pathology in 1992. She earned a master's degree in speech pathology from Ball State University in 1994. Throughout her career as a speech therapist, she worked with the elderly and handicapped but spent most of her time working with children. She taught in the classroom in Mission Viejo, Calif., for a year and then spent two years as a speech therapist at Flora Vista Elementary in Encinitas, Calif. Rebecca worked with young children in Aurora from 1998 to 2004, when she and her family moved to Steamboat. At the time of her passing, Rebecca was employed with Horizons Specialized Services and worked with children as old as 3 in Routt and Moffat counties.
Rebecca is survived by her husband of 14 years, Rodney K. Green; their two children, Rachael, 11, and Kade, 8; and by her parents and sister. She regularly participated in both of her kids' classrooms, was active as a Girl Scouts leader and taught Sunday school at Steamboat Springs' United Methodist Church. An avid skier and hiker, Rebecca and her family loved camping together and had made a great start at ascending all of Colorado's 14ers.
A funeral service was held in Steamboat Springs on July 9. A memorial service is scheduled at the United Methodist Church in Loup City on Saturday. The Rebecca Green Memorial Fund has been established at Wells Fargo Bank and a Web site for family and friends to share memories of Rebecca is online at http://RebeccaGreenMemorial.com.
Rebecca's husband, Rodney, would like to express his sincerest thanks to the entire community of Steamboat for their outpouring of affections and assistance during this most difficult time. She felt truly at home living in the Yampa Valley and had planned to reside here with her family for many years to come. Although Rebecca loved the natural beauty of the area, she believed that the people of the community were what really made it a wonderful place to live.