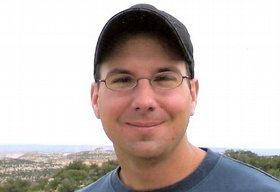 Brett Michael Stearns was born in Craig, the son of Michael R. and Julie K. Stearns.
He attended schools in Craig, and in high school played football and competed in track. His specialties were the shot put and discus.
He was a two-time regional champion in discus and placed high in the state discus finals each year. He won a scholarship to Western State University but decided he preferred school in Craig.
Brett was a multifaceted individual who enjoyed the outdoors, fitness, science and mathematics, and he had a lifelong love of learning.
When it came to the outdoors, he loved mountain climbing, hiking, mountain biking, skiing and running. Physical fitness was key to his professional life, as well.
When Brett was a little boy, he told his parents that he wanted to be a firefighter when he grew up. His dad said, "yeah, you bet," not believing that he would follow through, but every time a fire truck passed through town, he made his father follow it and see what was up.
In 2000, Brett started a career with the Bureau of Land Management as a wildland firefighter and enjoyed working in the great outdoors.
During the course of his time with the BLM, he worked his way up to engine captain, earning that distinction in 2006. It was in his capacity as wildland firefighter that he was clearing hazardous dead trees in the Freeman Reservoir area, which led to his accidental death.
Brett was a lifelong student and had a love of learning and a thirst for knowledge. He was a permanent fixture at Colorado Northwestern Community College, taking classes in various fields as diverse as math, physics, astronomy, literature, music appreciation, art, art history and Biblical archeology. He earned an associate of arts and associate of science, and he was three classes away from his bachelor's degree in science.
Brett was an avid traveler to many parts of the world, and on a trip to England, he was introduced to the niece of one of his college instructors, Joy Bowen.
After a follow-up trip the next year to Prague, Czech Republic, Brett convinced this little brunette structure firefighter to date him. It was a long-distance romance, with her working for the West Jordan Fire Department in Utah and him having responsibilities with the BLM in Craig.
Brett finally convinced Aurellia Joycelyn Bowen to marry him Oct. 5, 2007.
Brett and Joy loved to travel; they had visited England, the Czech Republic, Germany, Italy, Rome, Florence, Pisa and France in their brief time together, and they were planning future trips to Australia, Cambodia, Thailand and Budapest.
Brett was a quiet and gentle but strong person who loved to read and learn.
Because of his kindness and love for others, he will be greatly missed by all who knew him.
Brett is survived by his wife, Joy Bowen Stearns, of Craig; father, Michael R. Stearns, of Craig; mother, Julie (Ken) Harris, of Hayden; brother, Brad Stearns, of Roosevelt, Utah; sister Kylie Harris, of Hayden; grandparents Bud and Virginia Stearns, of Colorado Springs; grandmother Marge Manchego and grandfather Denzel Johnson, of Denver; and great-grandmother Delores Muth, of Sturgis, S.D.