1933 - January 23, 2009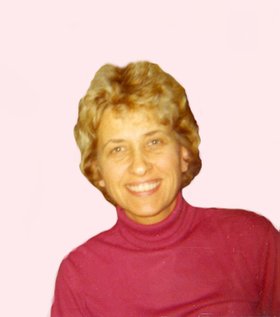 Claudette Elizabeth O'Hearn Reither, a beloved mother, sister and friend, died Jan. 23, 2009.
She was born March 10, 1933 in Chicago, Ill., to Bernard J. and Lucille M. Malburg.
Claudette married John C. O'Hearn on May 8, 1954, and moved to Minnesota, where they had seven children.
Upon her divorce, she relocated to Colorado in 1965, where she raised her children with the help of her family. Living in Denver, Craig and Grand Junction, she worked a variety of different jobs in the private and public sectors.
It is during these times that she made many friends and was well-respected for being a single mother raising seven children.
In 1994, she married Thomas D. Reither and welcomed being a homemaker.
She enjoyed travel, skiing, professional sports (especially the Broncos and the Avalanche), gardening, music, animals, holidays and, most of all, having her children around her.
Claudette was a loving mother who raised seven children with love, understanding and compassion.
She was the rock her children all relied on for comfort and counseling, home and health, food and fun, parenting and protection. She was a mother who endured considerable hardship in order to provide her children with life's essentials. She did this through personal sacrifice and without complaint.
She leaves her family filled with love for her and for each other. They have fond memories of growing up and of her many quips - their favorite being her shouting, "Judas priest," only for them to all yell, "Judas wasn't a priest!"
They will always remember her hearty laughter and warm, bright smile.
Claudette is survived by her husband, Thomas D. Reither; seven children, Patrick (Shirlee) C. O'Hearn, Michael (Letha) J. O'Hearn, Kathleen (John) M. Buniger, Margaret M. O'Hearn, Maureen (Rick) Kelly Bamford, Jeanne (John) M. Maneotis and John (Brigit) C. O'Hearn; her three brothers, Bernard J. Malburg of Palisade, Lawrence E. Malburg, of Fort Collins, and Jerome I. Malburg, of Barrington, Ill.; her sister, Ayleen Van Beynen, of Marquette, Mich; and nine grandchildren.
She was preceded in death by her parents and her sister, Marie L. Lafeber.
Memorial services will be at 10 a.m. Saturday, Jan. 31, at Callahan Edfast Mortuary, 2515 F Road, in Grand Junction. Visitation takes place 1 hour before the service.
Join the family for coffee and fellowship immediately following the service at the Church of Christ, 2893 F Road, in Grand Junction.
In lieu of flowers, memorial contributions may be given to Roice-Hurst Humane Society, 3320 D 1/2 RD, Clifton, CO 81520 or Hospice & Palliative Care of Western Colorado, P.O. Box 60307, Grand Junction, CO 81506.