2008 - February 2, 2009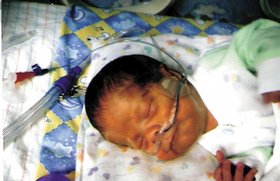 Adan Leonirez Gonzalez, the infant son of Bridget Moncada and Christopher Gonzalez, was born Oct. 9, 2008 at 28 weeks. He weighed 3 pounds and was 15 1/2 inches long.
His family wrote the following:
"We knew he was a fighter in the beginning, and he fought until his very last heart beat. His little heart held strong until the surgery when our Savior took our angel back to heaven on Feb. 2, 2009, in Aurora.
"His favorite place to be in the world was in his grandma Dalia's arms. She would sit at the hospital for hours holding him, loving him, and he would look around with his blue eyes and give her a smile, and then he seemed at peace."
He is survived by his maternal grandparents, Dalia and Ricardo Garcia; paternal grandparents Melody and Rueben Gonzalez; godmother Jasmin Garcia; aunts Melodie Moncada, Catalina Garcia, Jonette Gonzalez, and uncle JJ Moncada.
He is preceded in death by his maternal grandfather, Jerry Don Moncada, and paternal uncle, Rueben Anthony Gonzalez.
A funeral was Feb. 5 at Grant Mortuary in Craig.
Visit Bridget's MySpace page to view Adan's fight until the end. Donations can be made at any Wells Fargo in the name of Bridget Moncada.