1927 - December 25, 2009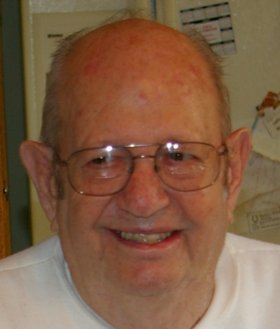 Gene Galen Farr left his family to join our heavenly Father on Christmas, Dec. 25, 2009. He was 82.
He passed away at St. Mary's Hospital in Grand Junction after a short illness.
Gene was born Oct. 26, 1927, in Keystone, Neb., to Delmar Farr and Byrde Troxel. He grew up and graduated from high school in Independence, Neb.
After graduating, he moved with his parents to Craig, where he met Frances Jean Seals. They married May 20, 1950, in Craig. They have three children: David (Janet) Dale Farr, of Germantown, Md.; Carleen (Gurnie) Joy Hawkensen, of Palisade; and Jill (Lee) Ann Peed, also of Palisade.
Gene worked for Service Pipeline while in Craig. His job had Gene and his family moving around.
They spent time in Salt Lake City; Baggs, Wyo.; and Rawlins, Wyo., before finally settling in North Linthicum, Md., where Gene had transferred to Colonial Pipeline. He retired from Colonial Pipeline in 1985 and moved to Palisade, where he has spent the past 24 years.
After moving to Palisade, he became a co-owner of Columbine Liquor Store and Sunshine Laundry with his wife, Jean, daughter, Carleen, and son-in-law, Gurnie. After 15 years, they sold the store, and he retired once again.
Gene spent a lot of time indulging in his passion for travel. He and Jean traveled all over the United States, Canada, Alaska and Mexico. Besides traveling, Gene enjoyed winemaking, his Boston terrier dogs and buying fruit and nut trees for his daughters' yards.
Gene cherished his family and the fun times they shared. He always was ready for company because he loved to visit with everyone and anyone. He especially liked to tease his grandkids and nieces and nephews. He could be counted on to make his famous peanut brittle at Christmastime.
Gene was a member of the Craig Elk's Lodge when he lived there. He was a member of St. Ann's Catholic Church.
Gene was preceded in death by his parents and his only brother, Dale.
He is survived by his wife, Jean; son David; daughters Carleen and Jill; four grandchildren, Shawn Peed, Gene William Farr, Vanesa Coffman and Casey Peed; and seven great-grandchildren, Nathan, Natana, Gene, Trinity, Danica, Tyler and Croix; and more family than can be named and many numerous friends.
A funeral Mass will take place at 1 p.m. Saturday, Jan. 2, 2010, at St. Ann's Catholic Church in Palisade. His ashes will be laid to rest with his parents in Craig at a later date.
Gene will be missed, but will live on in the joys of the memories and the love in the hearts of his family. Memorial contributions may be made to the Palisade Lions Club, PO Box 37, Palisade, CO 81526.
Arrangements are being handled by Snell-McLean Funeral Home in Palisade.