1920 - June 20, 2009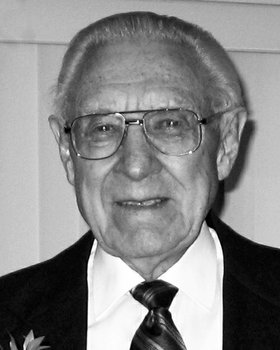 Thomas L. "Tom" Pelican died June 20, 2009, at his home in Colorado Springs with his family around him.
Tom was born Nov. 10, 1920, delivered by his own father Clyde "Doc" Pelican in a one-room cabin built by Clyde and Tom's mother, Tina, on a 320-acre homestead 28 miles north of Craig. There for seven more years, Clyde and Tina raised Tom, his older sister Ruby, and his older half-brother, Charles, until lack of adequate schooling required them to move closer to Craig to a small ranch just outside town.
Tom went to Craig High School and upon graduation in 1938, he was awarded a scholastic/athletic scholarship to attend Colorado College.
There, Tom played football and basketball and in his senior year was captain of both teams. He earned the Van Diest Award as the top male student-athlete and received second-team all-conference awards in both sports in 1941. A member of Sigma Chi fraternity, he served as the chapter president for one year.
Graduating from CC in 1942, Tom was given a fellowship to the Illinois Institute of Technology in Chicago.
After receiving his master's degree in science, he was drafted immediately into the United States Navy, went to boot camp and was commissioned as an ensign.
From that time until his active duty service was completed in 1946, he was a paymaster, with war-time service primarily in Australia.
While working toward his master's degree, Tom married Betty Jane Greene, the love of his life, in 1943 in Pasadena, Calif. Their two families had known each other since homestead days in Northwest Colorado before Betty Jane's family moved to California. Tom and Betty Jane had become friends when they were teenagers and then sweethearts, carrying on a long-distance relationship for several years.
After their wedding, Betty Jane moved to Chicago and was with Tom until he received his master's degree and left to serve in the Navy during World War II. After his discharge, the couple lived briefly in Chicago and then in Texas before settling in Colorado Springs for Tom to join Colorado Interstate Gas Company in 1948.
Starting as a natural gas engineer in CIG's production and marketing division, Tom worked his way up in the company, being named the division's head in 1953, CIG's vice-president of engineering in 1959, vice-president of operations in 1962, senior vice-president in 1964 and CIG president in 1965.
Through several company shifts and realignments, Tom remained a senior corporate executive and was CIG president when he retired in 1977.
Tom was a gifted leader and communicator who genuinely valued learning about the experiences and perspectives of all the people he knew - from field workers to board room members, from friends to new acquaintances.
A staunch supporter of natural gas as an invaluable energy source, Tom felt honored and privileged to work with the hundreds of talented and dedicated employees who were part of CIG during his tenure at the company, and he always felt he had a home at CIG. Following retirement from CIG, he served on the board of directors of Kansas-Nebraska Energy for several years.
In addition to being a distinguished member of the business community, Tom was an active civic leader.
He was elected president of the Colorado Springs Chamber of Commerce in the late 1960s and served as general chairman of the city's Centennial Celebration in 1972. He served as a director of the American Gas Association, the Southern Gas Association, and the Independent Natural Gas Association of American; chairman of the Colorado Association of Commerce and Industry; and a director of Junior Achievement of Colorado Springs.
Tom's awards include being named 1974 Executive of the Year by the Pikes Peak Chapter of the National Secretaries Association and 1976 Business Citizen of the Year by the Colorado Springs Chamber of Commerce.
After retiring from CIG, Tom pursued a second career as a rancher east of Durango. Fulfilling their long-held dream, in 1977 Tom and Betty Jane moved to a 119-acre ranch just outside of Bayfield. Tom made extensive improvements to the ranch's vast but long-neglected network of irrigation ditches and to the many broken fences separating the fields he leased to other ranchers as pasture for their cattle.
Neighbors quickly welcomed Tom and Betty Jane to the area and soon pronounced Tom's ditches and fences the best for miles around. During the years in Bayfield, Tom held several leadership positions in the two ditch companies to which he and Betty Jane belonged.
In 1997, Tom and Betty Jane moved from their beloved ranch into Durango. During his busy years on the ranch and then while living in Durango, Tom found time to volunteer for Meals on Wheels, and he and Betty Jane volunteered regularly at a local charity-run thrift store benefiting the local humane society.
In 2003, Tom and Betty Jane moved back to Colorado Springs to be closer to family, where he also enjoyed meeting with other CIG retirees on a regular basis. He was inducted into the Colorado College Athletic Hall of Fame in 2005 after being nominated by three close friends who knew about his athletic achievements at CC.
An Episcopalian for most of his life, Tom was first a member of Grace Church in Colorado Springs, where he was baptized. He went on to help establish Chapel of the Holy Spirit, one of Grace's outreach parishes, where he was a member for many years before attending St. Michael's. After moving to southwestern Colorado, he joined St. Mark's in Durango. He was a long-time vestry member and a regular usher at Holy Spirit, St. Michael's and St. Mark's.
Since moving back to Colorado Springs, he attended Grace Church and Church of Our Savior.
Tom worked hard at his jobs, but his personal life and relationships were of paramount importance. An avid fly-fisherman, Tom helped many family members and friends learn and enjoy this skill and pasttime, with much of his teaching delivered on a tributary of the White River in Northwest Colorado, where he and his father first started fishing in the early 1930s. He thoroughly enjoyed traveling with family and friends, including many trips to Mexico. In addition to liking to solve all sorts of mechanical and mental puzzles, he loved playing bridge and cribbage. In terms of the latter, he still was able to skunk (schneider) his children until very recently.
Tom is survived by his wife, Betty Jane; his son Steve and daughter-in-law Debi; daughter Suzy and son-in-law Fred Vanden Heede; daughter Gail; granddaughters Samantha Monson (and husband Christian), Libby Seamans (and husband Will), and Hanna; nieces Claudia Gausman and Jill Lynch; and many, many friends. A man of enormous integrity, generosity, and kindness with an engaging but gentle sense of humor, Tom was respected and loved by countless individuals, and he will be deeply missed by all who knew him.
A memorial service is being planned for 1 p.m. Aug. 31 at Grace Episcopal Church in Colorado Springs.
The family extends deepest gratitude to Robin Dahmen and the team members at Life Care Solutions and Right at Home for their exceptional kindness and caring, to the dedicated caregivers at Pikes Peak Hospice who helped make Tom's last weeks easier, and to Dr. Jeffrey Kulp for the care he provides, including the respect and gentleness he shows his patients and their family members.
In lieu of flowers, the family suggests donations to the Cystic Fibrosis Foundation, 1355 S. Colorado Blvd., Room C-200, Denver, CO 80222, or a charity of the donor's choice.