1926 - April 19, 2009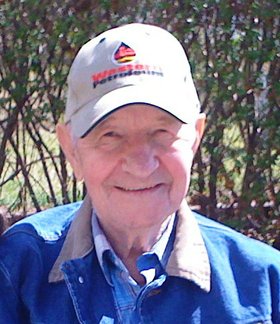 Roy G. Taylor, 82, died after a short battle with Alzheimer's and cancer April 19, 2009, in Palisade at an assisted living facility with his family and hospice by his side. Roy will be put to rest in Craig at the family plot next to his late wife. Services will take place at 1 p.m. Wednesday at Grant Mortuary in Craig.
Arrangements were made through Snell-Mclean Funeral Home of Fruita, & Grant Mortuary, of Craig.
Roy spent the last years of his life in the Grand Junction area in the small town of Fruita. He was born Oct. 9, 1926, in La Point, Utah, to parents Roy and Ethel Taylor.
After a short stint in the Army, Roy went on to marry his high school sweetheart, Coralie Ruth Davidson. They were loving companions until her death in 1984. They had five children together, four boys and a girl.
He traveled the world, from Africa to Alaska, and with various drilling companies, working as a tool pusher and later as a consultant, drilling wells.
He always was proud of all the good friends he was to meet throughout the years on the rigs. He finally retired with WR Grace in about 1989.
His more fond memories were his early years at Prudhoe Bay, in Alaska. Flying rigs into remote locations on Hercules aircraft on ice runways with temperatures 50 below. Those old days were always good for a story or two.
Roy also always had a passion for his cows.
He tried his hand at ranching several times all across the country. His last go at it was in McArthur, Calif., with his registered Herefords. Later in life, he said he "would have been a lot better off had he never saw a cow."
Roy always will be remembered for his story telling. He had lots of stories of the old days in Utah and Colorado, where he spent his younger years. He, of course, always had an old rig story to tell, as well.
Roy was preceded in death by his wife, Coralie Taylor; oldest son, Dave Taylor; sisters, Ina Rollins and Phyllis Cundiff; brother Howard Taylor; and grandchildren Cassie Taylor and Kyle Gagnon.
He is survived by sons, Randy Taylor and John Taylor, of Fruita, and Eddie (Jackie) Taylor, of Kenai, Alaska; daughter, Kristi (Pat) Zurfluh and husband Pat, of Kenai, Alaska; brothers, Ray (Dorothy) Taylor and Max (Trudy) Taylor; and sister, Carol (Ronnie) Liddell. He has 15 grandchildren and nine great-grandchildren and many nieces and nephews.
The family would like to express a heartfelt thanks to the staff at Palisade Retreat who did an exceptional job keeping Roy comfortable during his final days.
With a special thanks to "Saint Judy," who with that southern bell voice could get a smile out of Roy up to the end.
Memorial contributions can be made to the Alpine Hospice, 602 Jackson, Clifton, CO, 81520.