1930 - April 10, 2009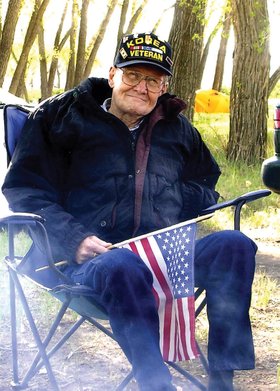 Jerry Blake Seip, 78, died April 10, 2009, in Vernal, Utah, after a lengthy battle fighting complications from diabetes. He spent his last weeks at his home, surrounded by family and friends.
Jerry was born Dec. 7, 1930, in Cheyenne, Wyo., to George and Leetha Seip. They then moved to Craig where, in 1951, Jerry graduated from Moffat County High School. After high school, he enlisted in the United States Air Force and was deployed to the Korean Conflict.
Upon his return to the United States in 1953, he married Wilma Kiever. Together, they raised a daughter, Valerie, and son, Terry.
After being discharged from the military, his work history was long and varied. Highlights include being a pumper at Powder Wash Camp for Mountain Fuel, business owner of Jerry's Texaco, manager of the Texaco bulk plant and salesman for several local businesses.
In his free time, Jerry enjoyed making jewelry and woodcarvings, which he sold in his business, The Sagebrush Shop. He enjoyed woodworking, fishing, metal detecting, camping, backpacking, watching the Broncos and spending time with his family and friends. Jerry and Wilma enjoyed traveling throughout the western states and Canada. They especially enjoyed their six-week road trip to Alaska in 1983 with their friends Larry and Rose Brenner.
In 2000, they sold their long-time home in Craig and moved to Vernal, Utah, in 2001. In addition to the many friends and family they left in Craig, they quickly made many new friends in Vernal, especially through their church home at Vernal Christian Church.
Jerry is survived by his wife, Wilma; daughter, Valerie (John) of Centennial; son, Terry (Coleen) of Rock Springs, Wyo.; grandchildren Emma, Callie, Joshua and Cora; brothers Harry (Dorothy) Seip, of Fresno, Calif., and Larry (Sandy) Seip, of Craig; step-sister Ramona "Jo" (Richard) Lagomarsino, of Ventura, Calif.; sister-in-law Dorothy Roberts, of Salt Lake City; and many nieces and nephews.
He was preceded in death by his father, George Seip, and stepfathers Doss Purcell and Chuck Hellman. His mother, Leetha Hellman, recently died at the age of 95. Niece Kelly Jo Seip also preceded him in death.
Memorial services for Jerry will take place at 1 p.m. Saturday at Craig Christian Church, 960 W. Victory Way. Interment will follow at the Craig Cemetery with military honors by the United States Air Force and Veterans of Foreign Wars Post 4265.
Memorial donations may be made to the Uintah Basin Christian Academy building fund or the National Kidney Foundation.