Obituaries
Former Craig resident Wilma L. Frost died March 28, 2009. There will be a memorial service at 10 a.m. April 11 in the chapel at Calvary Baptist Church, 6500 S. Girard Ave., in Denver. There also will be a graveside ...
Craig
Emerie Brooke Bohrer was born and died March 20, 2009. She is survived by her parents, Tony and Shannon Bohrer, and sister Keyara Bohrer, all of Craig. A memorial service will take place at 4 p.m. Saturday at the Apostolic ...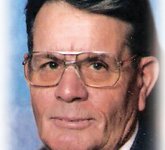 Craig
Teddy C. "Ted" Paulson Sr., a longtime Craig resident, died March 20, 2009, at his home in Craig. He was 83. Ted was born Dec. 2, 1925, near Baggs, Wyo., the son of Peter E. and Estella (McClellan) Paulson. Ted ...