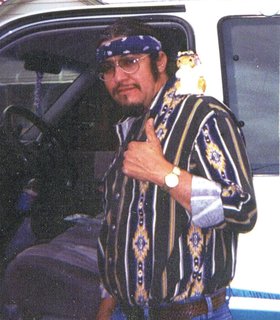 Sam Stephen Sanchez, a great husband, father, brother and friend, died Thursday, Sept. 4, 2008, at Casper Medical Center in Wyoming.
Sam was born Nov. 13, 1956, in Glenwood Springs, to John B. Sanchez and Jennie Duran Sanchez. After Sam graduated from high school, he worked with his father in the coalmines. He then worked in construction and with the "rough necks" in the oil fields.
His most recent job was working as a cook at the Cloverleaf Cafe in Rawlins, Wyo., for the owners and his good friends, Sam and Juanita Campos.
Sam is survived by his wife, Cynthia Ann Hockady Sanchez; brothers, Abel Sanchez and family, of Northglenn, David Sanchez and family, of Rock Springs, Wyo., Benny Sanchez and family, of Colorado Springs, Johnny Sanchez and family, of Portland, Ore., and Mike Sanchez, of Craig; sisters Janice Archuleta, of Northglenn, and Virginia Sanchez, of Rawlins, Wyo.; sons Tracy and Shawn Wood, and grandchildren Eli, Shawn Thomas and Michael.
Sam was preceded in death by his parents, John and Jennie; grandparents; baby nephew Johnny Devin Brierley; Joseph Archuleta; and his beloved first wife, Ruth Ann Hunter Sanchez.
A rosary was recited Tuesday at Grant Mortuary and a funeral was Wednesday, Sept. 10, 2008, at St. Michael Catholic Church in Craig.
Pallbearers were David Sanchez, Tracy Wood, Jeremy Sanchez, Mike Sanchez, Johnny Martinez and his brother of heart, Sam, and his friend, Dingus, and David Burgess.
Honorable pallbearers were Abel Sanchez, Carlos Rivera and Shawn Wood.