1928 - August 27, 2008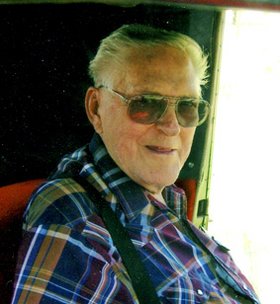 William George "Bill" Brewer died Aug. 27, 2008, in Sheridan, Wyo. For the last 20 years, he was in and out of the hospital for painful health issues that slowed him down. Yet, he continued to work and travel and fight to live.
Bill was born Sept. 15, 1928, in Olympia, Wash., to John Brewer and Dorothy (Osborne) Brewer.
As a young man, he wanted to be a baseball player. He had a reputation in Oregon as a tough arm wrestler.
When he was 12 years old, he landed his first real job, and he worked from then on.
In the 1950s, Bill went to work logging in Oregon forests. He continued to log for two decades in Oregon, Colorado and Utah, owning Brewer Logging Co. Bill told many stories of his logging days, felling giant trees, steering log trucks down muddy mountain switchbacks and making narrow escapes from hairy situations, even suffering broken ribs and encountering a few bears.
In the 1960s, he sold cars for a while. He always loved shiny, classic cars and trucks, especially a handsome tractor-trailer. He liked to tell about the time he drove down the Ogden Canyon in his spit-shined '73 Peterbilt and overheard other truckers talking on the radio about his sharp-looking rig.
Bill hauled oil tankers starting in the mid-1970s for Koch Oil, Matlack and Dyce Chemical under his business name, Lil' Dukes Trucking. His sons, Bill Jr. and Greg, worked with him, and in 1996, Greg purchased the business with Bill Sr. continuing to work alongside him.
Even in his 70s with poor health, Bill was always the businessman, running a towing business in Las Vegas and building and selling cabins with his sons.
He had a great work ethic. He always worked hard, didn't give up and fought adversity. He would say, "There are no problems, just solutions."
When Bill wasn't working, he loved being outdoors. He camped, fished and hunted with his family and friends. He enjoyed traveling, picnics, boating, attending the Indy 500 and his little Schnauzer dog, Shakers.
Bill was an accomplished gardener and tilled a spot wherever he lived. He donated most of what he grew to charities.
Bill loved to tell stories. At family gatherings or just while driving, Bill would recount the names, places and dates of events big and small throughout his life.
He had one-liners for new employees: "I ain't never met a man I couldn't whip, and you're not gonna be the first," and reminders for backseat drivers: "I've driven over a million miles. Don't tell me how to drive." You didn't have to wonder what Bill thought - he was sure to tell you.
He was rough at times and liked to mix it up. He was no stranger to a fistfight, and his hero was John Wayne. But he also had a sense of humor and enjoyed playing practical jokes and having a good laugh.
Bill is survived by former wife, Jerry Brewer, of Craig; sisters, Olive Duncan, Erma "Jerry" Underwood, and Eunice "Bobby" Hollenbeck; children, Bill (Margie) Brewer, of Layton, Utah, Vicki (E.J.) McCarry of Vancouver, Wash., Cheryle (Leonard) Browning, of Craig, Dana (Dale) Archuleta, of Sheridan, Wyo., Greg (Laura) Brewer and Sherry (James) Marren, both of Craig; stepchildren, Marilyn Hatzke, of Spokane, Wash., Pat Doeden, of Craig, Doug, Callie, Rayla and Tracie Probert; grandchildren, Dustin and Derek Archuleta of Sheridan, Wyo., Jeremy (Cyme), Nathan, Joel, Lindsey Browning, Courtney (Justin) Jenison, Jason Essex, Cole, Tyler and Katie Marren, Amanda Brewer, all of Craig, Ashley Brewer, Brittney (Nick) Tomlinson, of Casper, Wyo., Erin McLane, of Portland, Ore., Todd (Cheryl), Chad (Kimberly) and Kelsey Brewer, Tracy McCarry, Lisa (Jeff) Carry, Justin, Kevin (Jaceline) and, Melissa Hatzke, of Spokane, Wash., and Vikki Mcgreagor, of California; as well as more than 22 great-grandchildren.
He was preceded in death by his parents; former wives, Dorothy (Padgett) and Katherine (Fellas); brothers, Harold Osborne and Calvin "Bud" Burkhart; sister, Lucille Alexander.
Memorial services were held Sept. 1, with Pastor Leonard Browning officiating. Pallbearers were Bill Jr, and Greg Brewer, Jeremy, Nathan, and Joel Browning, Dale, Dustin, and Derek Archuleta, Jason Essex and James Marren. Honorary pallbearers were Matt Gerberich, Lee Ames, Willis Guptill, and Bud Burkhart, Bill Lord and Jim Griffin in memory. William "Bill" Brewer was buried at Craig Cemetery.