1993 - November 18, 2008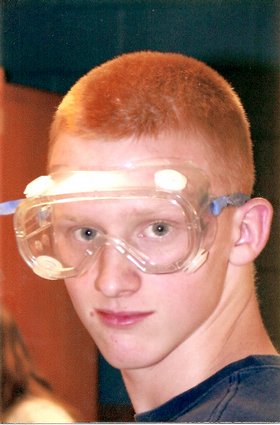 Robert "Bobby" Charles Donelson, 15, of Hayden, died Nov. 18, 2008, in Hayden. At the time of his death, he was a sophomore at Hayden High School.
Bobby was born July 1, 1993, in Portsmouth, Va.
He lived with his family in Lockport, N.Y.; San Manuel, Ariz.; Virginia; Missouri; Craig and, for the past three years, Hayden.
Bobby loved family, friends, school, fishing, archery, videogames, woodworking, camping, stargazing and his pets, Sissy and Tanner. He also loved science, fireworks and the show, "Mythbusters." He would always challenge his teachers with the what ifs, buts and how comes. His prized award was the Einstein Award for the last three years running. He had a goal of becoming a pyro-technician, a chemist and "who knows," he would say, "maybe even president."
Bobby is survived by his brother and best friend, Chris, age 17, a junior at Hayden High School; his mother and father, Shannon and Charles; grandparents, Deanna and Bob David, of Craig, Barb and Tim Lebar, of Lockport, and Melanie and Chuck Donelson, of Sanborn, N.Y.; great-grandmother, Tha David, of Texas; great-great-aunt, Virginia Morris, of San Manuel; uncles and aunts, Danny and Robin, of Oak Creek; Dean, of Craig; John and Marissa, of Craig; Paul and Jaime Donelson, of Richwood, W.Va.; Chrissy, of Westminster, Md.; Molly and David Page, of Lockport; Sara LeBar and Chris, of Cheektowaga, N.Y.; Tim (currently serving in Iraq) and Andrea LeBar, of Lockport; and Jennifer and Mark Kaufman, of Lockport; cousins, Alina, Keirstin, Preston, Mary, Max, John Jr., Chelsey, Cody, Michael, Mathew, Drew, Brook Violet and Daniel; and countless friends.
Bobby always was full of love and pride about how close and tight-knit his family is. He will be missed greatly. He would hug and kiss family members before bed and each morning.
A funeral was held Friday at Hayden High School.
In lieu of flowers, a memorial fund has been set up at Bank of the West and at Mountain Valley Bank. The memorial fund will go to help send Bobby's brother, Chris, to college.
Memorial donations can be made to the Robert Donelson Memorial Fund in care of the Mountain Valley Bank, P.O. Box 279, Hayden, CO, 81639. For more information, call the Yampa Valley Funeral Home at 970-879-1494.