1913 - November 4, 2008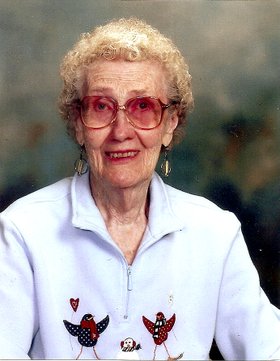 Leetha E. Hellman, 95, a lifelong Craig resident, died Nov. 4, 2008, after a brief illness. She spent many hours with her family during her final days and will be missed by all.
Leetha was born Feb. 3, 1913, in Comstock, Neb., to Floyd and Myrtle Musser. Her family moved to the Craig area when she was a young girl.
She was schooled at Breeze Basin, where she met her first husband, George Seip. They were married Dec. 23, 1929, and they had three sons. She was predeceased by George on June 5, 1942.
On July 7, 1945, Leetha married her second husband, Doss Purcell. To this union, Doss brought a step-daughter, Ramona "Jo."
After marrying Doss, Leetha became the head housekeeper at the Cosgriff Hotel, where she worked for 28 years until her retirement. She took great pride in her work and instilled in her boys and their progeny the old adage, "cleanliness is next to godliness." They lived that adage well.
She was predeceased by Doss on May 29, 1968.
Upon leaving Cosgriff, she worked at The Memorial Hospital for seven years, then retired for good to a fun-loving life at Sunset Meadows. While there, she spent much time with her many friends and took part in hobbies, card-playing and the many other activities offered to the residents.
Through her activities at Sunset Meadows, she met and married her third and final husband, Charles "Chuck" Hellman, on Sept. 14, 1983. The two of them enjoyed traveling and staying active.
Chuck predeceased her on Nov. 19, 2003.
She enjoyed crocheting and will be remembered for her crocheted hangers, which she supplied to all who came to her apartment, and to her family members for them to hang up their delicate clothing. She also crocheted beautiful afghans for her family to wrap themselves in.
Leetha is survived by her three sons, Jerry (Wilma) Seip of Vernal, Utah; Harry (Dorothy) Seip of Fresno, Calif.; and Larry (Sandy) Seip of Craig; step-daughter, Ramona "Jo" (Richard) Lagomarsino of Ventura, Calif.; nine grandchildren, 18 great-grandchildren, and six great-great-grandchildren.
She was preceded in death by her three husbands, parents, two sisters, Beulah (Combs) Harms and Verna Flaharty, and grandchild, Kelly Jo Seip.
Services for Leetha were held Nov. 15 at Grant Mortuary, with private interment following at Craig Cemetery.
Memorial donations may be made to the Moffat County Humane Society or any charity of the donor's choice.