1919 - April 15, 2008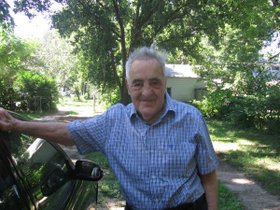 Albert Peter Romano, 88, of Manhattan, Kan., died April 15, 2008, after a long period of declining health.
Born Sept. 26, 1919, in Rutland, Vt., Mr. Romano was the ninth of 10 children born to Nicholas and Philomena Romano. He enlisted in the military shortly before U.S. entry into World War II, eventually achieving the rank of second lieutenant in the Army Air Force.
After the war, he moved west and became a partner in a plumbing business in Denver. In 1956, he married Irene Waltraut Koransky, a native of Germany. Together they raised five daughters in Denver and Breckenridge. In 1975, Mr. Romano started a new plumbing business in Craig, where he lived for many years and was well-loved for his activity in the community, as well as his humor and creativity.
He volunteered to teach poetry in the schools and served as president of the Colorado Poetry Society in the early 1990s. He was a member of the Steamboat Springs Writer's Club, and his poems were often published in the Craig Daily Press and the parish bulletin of St. Michael Catholic Church, where he was an active member. He was involved with the Preserving the Last Frontier committee and the Moffat County Arts and Humanities Council. As a self-taught musician, he played his chromatic harmonica with flair and aplomb at many civic functions. He was a graceful dance roller skater and an accomplished ice skater, and was involved in the dance skater group at the Moffat County Ice Arena. After retirement, Mr. Romano converted his Rose Street home into a used bookstore, The Used Book Store, where his unique spirit became a beacon for community members as well as travelers passing through town.
In 2001, Mr. Romano moved to Kansas and settled in Manhattan.
Surviving are his wife, Irene; daughters Jeanette DeBenedictis and husband Marc, Julia Romano, Joyce Romano and husband Walker Brents III, Jacqueline Vignal and husband Bruce, and Jerrilynn Romano and husband Peter Arnds; grandchildren Matthew Vignal, Michael Vignal, Gina DeBenedictis, and Jonas Arnds; and sisters Mary Ventrella, Helen Garofano, and Peggy Volpert.
A memorial service took place April 19 at Seven Dolors Catholic Church in Manhattan.