1933 - August 6, 2008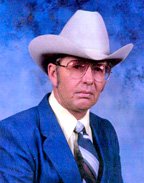 Robert (Bobby) Dennis Showalter, 75, died Aug. 6, 2008, at his home in Vernal, Utah, of causes attributed to myotonic dystrophy. He was born April 7, 1933, to Clarence Leroy (Roy) Showalter and Opal Irene Barnett in Savery, Wyo.
Bobby spent his summers at the family ranch at Slater and attended school in Vernal, Utah. He graduated from Uintah High School, then attended Utah State University for two years. Bobby then served in the Korean War. After his discharge, he went back to Logan and graduated after two more years at USU.
Bobby married Gwennita Curry, of Roosevelt. They were the parents of three children. The couple later divorced. Bobby married Monta Rae Caldwell Richardson in 1974; she brought three children to the marriage.
Bobby belonged to The Church of Jesus Christ of Latter-day Saints. He is a member of Maeser Seventh Ward. He served in several positions, and he and Monta Rae were sealed in the Provo Temple. They have been married 34 years.
Bud, as he was known to his sheep man friends, bought the family sheep ranch from his father when Roy retired. Bud loved the sheep business, but he also loved to be in business partnerships. He and his friend, John Smith, of Craig, became partners in a large land deal. He and Johnny owned Showalter and Smith Land and Livestock. They successfully bought, ran and then sold a large sheep operation. Some of Bud's other business ventures included B & B Well Service with Brent Richardson, Triple S Well Service, GUS, Corson and Showalter Cattle and Savery Store.
When Robert's health began to fail, he and Monta Rae began spending their winters in Mesa, Ariz. They have many friends there, and enjoyed attending the LDS Temple.
Robert was a member of the Vernal Roping Club, Dixon Roping Club and Rodeo Cowboy Association. For many years he was a member of the Wool Growers Association. After retirement, he took up golf as a hobby. Bobby was very social and loved to cook and was known for many delicious lamb cookouts.
Robert is survived by his wife, Monta Rae; daughters, Wendy McKee and Cathy (Clay) Dietrich, both of Craig; step-children, Shanna Werner, Daryl Richardson, Brent, Richardson; seven grandchildren and 10 great-grandchildren; and sister, Kathleen Siddoway.
He was preceded in death by his son, Michael Robert Showalter; sister, Jo Ann Snyder; infant brother, James Leroy Showalter; brother-in-law, Lynn Siddoway; and grandchild, Brandon Richardson.
A funeral was held Aug. 11 at the Maeser Stake Center. Burial was in the Maeser Fairview Cemetery with military honors by the American Legion posts 124 and 11 under the direction of the Blackburn Vernal Mortuary.