1945 - August 15, 2008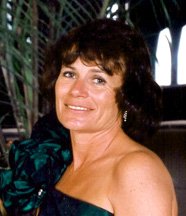 Sheila Greenhalgh Williams, 62, of Grand Junction, died Aug. 15, 2008, in her home after being diagnosed with lung cancer in early June.
Sheila was born Aug. 19, 1945, in Rock Springs, Wyo., the daughter of the late William Wallace and Annie Sevella Wilson Greenhalgh. She attended school in Rock Springs.
Sheila married Evan "Norv" Williams on June 1, 1962, in Evanston, Wyo. He preceded her in death, dying from lung cancer on Aug. 1, 2006, in Granbury, Texas. They were married 44 years.
After her husband's death, she moved to Grand Junction to be closer to her children and grandchildren. She had been living there for the past 14 months. Before Grand Junction, she lived in Granbury, Texas, Durango, Borger, Texas, Craig and Powder, Wash.
Sheila worked in several career fields throughout her life; banking, retail, real estate and was a business owner, but she will be most remembered as an amazing wife, mother, grandmother (best grandma ever), sister and friend. She also loved crafting and house "staging."
Survivors include her son, Evan Todd Williams and wife Karla of Montrose; daughter, Shauna Rae Cozzens and husband Richard of Fruita; five grandchildren, Brandi and her husband Matt, Terence, Amanda, Blake and Tina; three brothers, Ted Greenhalgh and wife Marla, Ned Greenhalgh and wife Mildred of Las Vegas, Monty Greenhalgh and wife Rose of Colorado Springs; five sisters, Bonnie Kouris, Gale Andrews and husband Tom, Mona Thomas and husband Scottie of Rock Springs, Wyo., Glenna Jelosek and husband Jim of Colorado Springs, and DeEtte Angelovic of Salt Lake City.
She was preceded in death by her parents; husband; two sisters, Marjorie Elliott and LaRee Madden; one brother, Billy Greenhalgh; three brothers-in-law, Bill Kouris, Bert Madden and John Angelovic; and one nephew, Thomas Madden.
Following cremation, a memorial service will be conducted at 10 a.m. Saturday, Aug. 23, at the Outlaw Inn Best Western hotel, 1630 Elk St., Rock Springs, Wyo.
Memorial contributions can be made to the Hospice and Palliative Care of Western Colorado, P.O. Box 60307, Grand Junction, CO 81506.