Obituaries
Treva M. Sharp was born June 23, 1937, in Zanesville, Ohio. She was raised in Zanesville and attended school there. She later went on and became a registered nurse. She specialized in hospice care. Treva was married to Dean Lanier ...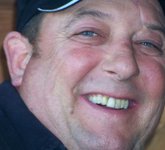 Timothy Eugene Portenier died in his home Monday, July 9, 2012. He was 57. Tim was born in Seattle and spent most of his childhood in Sidney, Neb., surrounded by a large family of five brothers and three sisters. It ...
Memorials
Family and friends of Ralph F. and Betty Jo Simpson are invited to a remembrance and pot luck luncheon at a Trapper's Lake campground from 11 a.m. to 4 p.m. Saturday, July 14, 2012. For more information, call (970) 596-3834.