Obituaries
Leonard LeRoy Glaze, of Wellington, passed away in his home surrounded by family Nov. 29, 2010. He was 67. He was born Oct. 10, 1943, in Steamboat Springs to Glenn LeRoy and Marguerite Eva Marshall Glaze, who ranched south of ...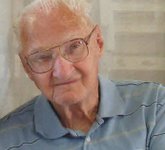 Brush
Charles Don Morgan, 92, of Brush, formerly of Hayden, died peacefully in his sleep Dec. 12, 2010, at Sunset Manor in Brush. Don was born July 10, 1918, to Otto Lee and Emma Mae Mor­­gan in Parkville, Mo. He grew ...
Rita May Gingrich was born April 30, 1947, to Margueritte L. and Roy R. Kirk. She had four brothers and one sister. She grew up in Scott City, Kan., until 1960, when her father passed away. The family moved to ...