Obituaries
Doris Jean Bemis, of Craig, died Saturday at The Memorial Hospital. Memorial services will be at 3 p.m. Wednesday at Grant Mortuary.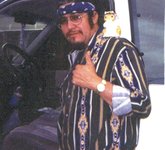 Sam Stephen Sanchez, a great husband, father, brother and friend, died Thursday, Sept. 4, 2008, at Casper Medical Center in Wyoming. Sam was born Nov. 13, 1956, in Glenwood Springs, to John B. Sanchez and Jennie Duran Sanchez. After Sam ...
Memorial services for Marvin Thompson will be at 11 a.m. Saturday at the Kingdom Hall.