The season is far from over for Moffat County High School wrestling, but if Tuesday were the team's final event, it certainly would have been a high note.
MCHS took a 70-6 win during a home dual meet with Basalt, the second time the two schools have met, Bulldogs dominating even more so than in the 65-15 victory they saw against the Longhorns in December.
Photo Gallery
Moffat County High School Wrestling Senior Night and Dual vs. Basalt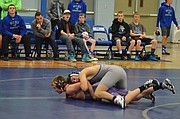 Moffat County High School wrestlers saluted their seniors and also picked up a sizable win against the Longhorns.
2016-17 Moffat County High School varsity wrestling season
Time, Date(s) — Event/Opponent; Team Ranking/Team Score, Win/Loss
A Senior Night ceremony began the evening, saluting upperclassmen John T Peroulis, Ryan Zimmerman and Hugo Hernandez, while the fourth senior on the roster, Jay Carrico, was unable to attend.
Each of the Big Dogs not only took a win but a victory by fall, as Ryan Zimmerman and John T Peroulis took the honors by pin in the 126- and 138-pound classes swiftly, the former against Basalt's Henry Vargas in 70 seconds and the latter over Sander Elliot at the 1:18 mark.
Hernandez also was able to take his opponent to the mat, though it was midway through the second round before he claimed the six points against William Rivera at 195.
The dual was the first home meet this season for Hernandez, who was able to get back into the sport starting over the past weekend after a lengthy recovery from a tib-fib fracture.
The win took a little longer than he would have liked, but he's willing to be patient.
"I'm still getting back into shape," he said.
It was a big night for each of the seniors, said assistant coach Mark Voloshin, adding that it was great for the coaching staff to see Hernandez back on the mat.
"Hugo's come a long way from that injury," he said. "Every week he's gaining a little more confidence."
The seniors were hardly the only Bulldogs to rack up points. Longhorn forfeits went to Jeremiah Ziegler, Miki Klimper, Elias Peroulis at 113, 170 and 182 to drive up the score, but of the seven additional contested varsity matches, five resulted in pins for Moffat County grapplers.
Following two junior varsity exhibition matches, which Dagan White and Isiaih Herod won quickly by fall, 145's Miguel Zaragoza was the first to face off for varsity, finishing off Ryan Borchelt in the second round. Drake Zimmerman followed at 152 with a dispatch of Julius Vazquez that ended with the Basalt competitor upside-down on his head.
With Hernandez filling the 195 slot, Toryn Hume moved up to the 220 weight and gained a fall against Ernesto Lopez.
The Longhorns picked up their only points of the night as heavyweight Oswaldo Morales — the only Basalt athlete to crack the On the Mat rankings, third in 3A's Region 1 and 11th in the state — pinned Bulldog Lee Graham.
At 106 and 132, Dario Alexander and Ethan Powers were each able to complete first-round pins, while Chris Moschetti went the distance in the 120 bracket against Basalt's Nathan Rivera.
Rivera was able to earn crucial escapes that gave him points, though Moschetti all but won it in a 9-1 first round, going on to take the 14-2 major decision.
The Dogs will host one last home event, albeit a smaller one when Soroco comes to Craig Jan. 20.
Until then, it's tournament time again, as the Mel Smith Husky Invite is on the schedule for Friday and Saturday in Florence with the JV Vern Rose Memorial in Rangely also taking place.
The Florence event is a bit of a drive, but the presence of many regional teams makes it a must-go, Voloshin said.
Wrestlers are ready and raring for another chance to move through the brackets, their sights on the regional tourney in February.
"It's training season, a lot of hard work and a lot of good competition still to come," Ryan Zimmerman said.
Contact Andy Bockelman at 970-875-1793 or abockelman@CraigDailyPress.com or follow him on Twitter @CDP_Sports.