If there's a slight chill in the air yet couples are still strolling down the street with a bundle of sweet stuff in their hands, you know it must be the yearly Art Walk and Taste of Chocolate.
Photo Gallery
Downtown Business Association Art Walk, Taste of Chocolate and Connections 4 Kids Cherish the Little Things Art Show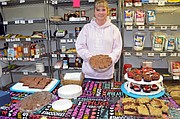 The yearly event included local artists, live music and many chocolate dishes up for tasting Saturday night in downtown Craig. Connections 4 Kids' annual fundraiser also took place at Center of Craig, displaying works by about 300 local students.
Downtown Business Association brought its local lead-in to Valentine's Day to life Saturday as shops along Yampa Avenue and Victory Way treated residents to fine arts, live music and tempting confections.
Melanie Kilpatrick was among the Craig artists putting her talents on display at The Giving Tree, with a variety of sculptures made from found items. Though this was the first year she showed her art, she also participated in Taste of Chocolate last year, serving Guinness chocolate cupcakes.
"The art is more true to what I enjoy doing," she said. "Baking is a whole different kind of craft."
With 10 entrants providing their wares — ranging from French silk brownies to Twix cookies to chocolate-dipped apples — those with tickets to the sold-out event could vote on their pick of the evening.
Andrea Luker, of Alison's Pantry, said she prepared her entries exclusively with items in her own inventory, including Velveeta fudge.
"Hopefully I get some new customers," she laughed.
Donna Deatherage said it was difficult to choose from her collection of samples throughout the night, though the peanut butter crackle brownies were a favorite.
"It's just like a Butterfinger, so crunchy," she said.
She added that what she enjoys most is the socializing and enjoying the art and music on display.
Musicians performing everything from country to classical provided a soundtrack for the night, which also featured the final night for Cherish the Little Things Art Show hosted by Connections 4 Kids at Center of Craig.
The fundraiser highlights about 300 artworks by local students of all ages, as well as 20 selections for which viewers could vote for their favorite to appear on the cover of the group's annual calendar.
Organizer Betsy Overton said the multiple-day turnout — starting Thursday with a Craig Chamber of Commerce mixer — was great.
"We're happy, our numbers are up, and we're doing good," she said.
Winners for both Taste of Chocolate and Cherish the Little Things will be announced Monday.
Contact Andy Bockelman at 970-875-1793 or abockelman@CraigDailyPress.com.