Craig — A controlled burn grew out of control Tuesday and Wednesday in Rio Blanco County east of Meeker, which singed 77 acres of private and National Forest land, according to a press release from the Rio Blanco County Sheriff's Office.
Crews responded to the fire around 2 p.m. Tuesday about 24 miles east of Meeker on Rio Blanco County Road 8, Undersheriff Brice Glasscock said.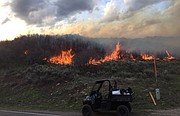 A private landowner was burning ditches when a section that had already been burned re-ignited. Windy conditions Tuesday night — with gusts estimated up to 35 miles per hour — spread the fire quickly through drier-than-usual sagebrush and oakbrush, Glasscock said.
"We're seeing some higher fire activity this spring that we usually see in later months," he said. "It's really erratic and weird fire behavior for this early."
The fire was 80 percent contained by 7 p.m. Wednesday and was 100 percent contained by 10 a.m. Thursday. A total of 30 personnel responded from Rio Blanco County Sheriff's Office and Emergency Management, U.S. Forest Service and Juniper Valley and Buena Vista Hand Crew.
About 69 acres of the burn occurred on private land, with about eight acres of White River National Forest going up in smoke. Crews completed mop-up operations Thursday afternoon. No fault was found with the private landowner.
Last week, state fire officials predicted an average to slightly below-average wildfire season in 2017, according to reporting by Associated Press.
Colorado's high country had average to above-average snowpack as of April 14, which may help dampen fire risk in the mountains.
Northwest Colorado fire officials are still prepared for anything, however. Matt Holte with Craig Interagency Dispatch Center is predicting a normal fire season, though Wednesday's fire in Rio Blanco County struck earlier than usual.
"Obviously, you can see we've been drying out rather quickly," Holte said. "The fire in Rio Blanco is a little bit more than we're used to having at this time of year."
Finer fuels such as grasses and sagebrush dry out more quickly, especially when winds are high, he added.
As farmers and ranchers get ready to conduct controlled burns on their properties, Bureau of Land Management Public Affairs Specialist David Boyd recommends people take extra precautions.
"Watch the forecast for those windy days, and always have water and a shovel handy," Boyd said in an email.
"This time of year can be deceiving — as the snow melts and last year's grasses dry out, there can often be a few weeks before green-up occurs," he added. "Combine those locally dry conditions with spring winds around here and you have potential for a wildfire."
If in doubt, people can call the Moffat County Sheriff's Office or BLM for recommendations about whether to burn, Holte added. Current fire and weather information can also be found at the Craig Interagency Dispatch Center webpage.
Contact Lauren Blair at 970-875-1795 or lblair@CraigDailyPress.com or follow her on Twitter @LaurenBNews.