Material goods are not the focus for those practice martial arts, though a tangible reminder of a milestone is no less of an achievement.
Members of Northwest Colorado Tae Kwon Do/Hapkido recently competed in the Montrose Spring Karate Tournament, bringing home an assortment of awards.
The tournament was a mixture of disciplines, said instructor Paul Cruz, stating that competitors from across the Western Slope practiced karate, taekwondo and kung fu, only a few of the many martial arts.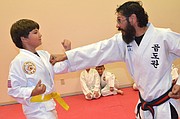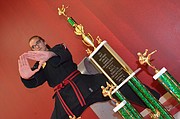 "We don't want to just put ourselves up against taekwondo because there's so many other schools out there," he said. "I encourage these tournaments because there's so many different styles, and you don't know who you'll be up against."
Among the honors for the 17 students of all ages who attended was a sizable set for 15-year-old Hannah Germond, whose first-place distinctions in three categories earned her Kyu Belt Grand Champion.
The wins came in sparring, open-hand kata — the term for form and movement — and weapons kata, for which she used fans.
A senior red belt, Hannah has been involved in taekwondo for more than four years and has been involved in as many tournaments, though her latest was by far her best.
"I've placed pretty good, but I've never gotten Grand Champion before," she said. "I've just been learning from experience from all the other ones."
The performance aspect of such events used to be intimidating but not anymore.
"I used to be nervous, bit now I can channel it into positive energy," she said.
Hannah will also be testing for her black belt in the next two months, a process that involves daily study alongside other preparation, such as an uke, a designated training partner.
Also an assistant instructor, she credits Cruz with helping students reach their full potential.
"The teaching here is really good," she smiled.
Hannah's sister Brooke, 12, also possesses red belt status.
"I love the sport, I love doing it and all the people here," she said.
With multiple red belt-level students, including Shasta Hyer and Ashley Smith, Cruz is anticipating seeing them earn their black belts in no time.
"These guys have worked really hard," he said.
Contact Andy Bockelman at 970-875-1793 or abockelman@CraigDailyPress.com or follow him on Twitter @CDP_Sports.