In most health care facilities, 3-D ultrasounds are reserved for high-risk pregnancies or used by perinatology experts only. Yet The Memorial Hospital wanted to improve the ultrasound experience for all expectant patients and their families, so it upgraded its current equipment to 3-D.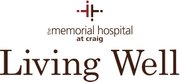 Babies Happen Here: Coming up next
"3-D technology is used for the highest of high-risk obstetrics," stated Dr. Scott Ellis, OB-GYN with TMH Medical Clinic, who said he is thrilled to offer the advanced technology to all of his obstetric patients.
With 3-D, the image of the developing baby comes to life. Instead of looking at what is seemingly a black and white sketch of your baby, you can see detailed contours of his or her face and body. It is as if you get to peer in and get a real glimpse of your baby's face and body features.
The Accuvix 3-D ultrasound works by taking multiple images of the fetus from several angles. The images then are combined to create the 3-D image. For parents, it's the closest thing to meeting their baby before the birth.
"Patients and their families are thrilled to see the details that make up their baby. The resolution and images we get are absolutely amazing," Ellis said.
3-D ultrasounds, like all ultrasounds, are used to determine how a fetus is growing, view organ development and determine gender, if desired. Because of the detail they provide, 3-D ultrasounds often are used as a diagnostic tool or to take a deeper look at an area of concern.
"We are really happy to offer this advanced technology to our expectant moms," Ellis added.
Since 3-D ultrasounds are basically the same technology as 2-D ultrasounds, they are just as safe and meet the same safety standards from the Food and Drug Administration.
"TMH is a really supportive environment. Leadership makes sure we physicians have the equipment that we need to do our jobs, and do them well," Ellis said.
Follow the hospital's Babies Happen Here campaign in which two local moms share their pregnancy journeys at TMH with you. Meet Kelsey and Trini Loya, who are having their first baby, and Daina and Wayne Wagner, who happily are adding to their wonderful family (www.thememorialhospital.com/services/babies-happen-here).
Visit the hospital's Labor and Delivery page and scroll down to view a video of Kelsey getting her first ultrasound from Dr. Scott Ellis (www.thememorialhospital.com/services/labor-and-delivery). Watch for a coming video that will give more details about the 3-D ultrasound in upcoming weeks.
"It's amazing and so state-of-the-art. You can really see your baby," Kelsey Loya said.
This weekly article with tips on living well is sponsored by The Memorial Hospital at Craig — improving the quality of life for the communities we serve through patient-centered health care and service excellence.