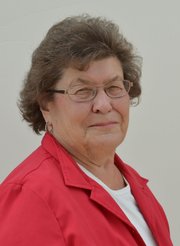 A few weeks ago, this column featured a recipe for a pudding cake. The ingredients included instant vanilla pudding, milk and a package of Dream Whip. At the time I wrote up the column, I wasn't sure that packages of Dream Whip (to be mixed) were still available in grocery stores. Donna Deakins, of rural Craig, assured me that they are. She went on to try the recipe and said it was easy to make and good. So if you want to try the recipe, you can find Dream Whip. If you missed the recipe, call me and I'll send it to you. Thanks, Donna.
This week, I took a couple of recipes out of a looseleaf notebook that I've kept for more years than I want to admit. These recipes were given to me by my mom, Judy Osborn. It was always a challenge to copy recipes as Mom gave the directions because sometimes she didn't know just how much of various ingredients she used. She made everything by feel (like dough) and by taste.
This first recipe was given to Mom by the late Janet Eberle. Janet once lived in the Hamilton community. I'm not sure that I have "dowdy" (from the recipe's title) spelled correctly — hopefully, I do. I usually list ingredients, but this time, I am writing the recipe as Mom gave it to me. I'm assuming the apples are raw.
I'm not sure where Mom got the "Berry Cobbler" recipe; perhaps it also came from Janet. Some types of berries have been on sale lately, so maybe this would be a good recipe for using them.
Do any of you have a recipe for "Pan Dowdy"? If you have recipes you would like to share with readers, call 970-824-8809 or write to P.O. Box 415, Craig, CO 81626.
Janet's Apple Pan Dowdy
Make the syrup:
In a big Pyrex dish, put 1 1/2 cups sugar, 1 1/2 cups
water and a handful of Red Hots. Be sure it is boiling. (A good way is to put all of the ingredients in a pan on the stove and boil it, and then put it in the Pyrex dish.) Make the biscuit dough:
Use 2 cups of flour for this amount of syrup. Roll out thin and add apples and roll up. Cut like cinnamon rolls and bake.
I assume that you would follow a biscuit dough recipe. The rolls must be placed in the syrup and then baked — maybe 375 degrees?
Berry Cobbler
Mix together 1/2 cup sugar, 2 teaspoons baking powder, 1/2 cup
flour and 1/4 teaspoon salt. Stir in 1/2 cup milk, 1 teaspoon melted
butter and 1/2 teaspoon vanilla. Spread the mixture in the bottom of a buttered 6x2-inch dish. Scatter 1 cup of blueberries, blackberries or other berries over the batter. Sprinkle 1/2 cup sugar over the berries. Then add 3/4 cup boiling water over everything. Bake at 375 degrees for 25 to 30 minutes. If using canned berries, use the juice instead of water.