When it comes to books, Sunset Elementary School fourth-grader Kaia Gunderson has traveled a lot this year, visiting everywhere from a land of mythical beasts to a galaxy far, far away.
Besides just the pure enjoyment of these adventures, the experience has been enriching for her, as well as for many other Craig students her age, who are in the early stages of a lifelong literary journey.
Photo Gallery
Passport to Reading Barbecue 2014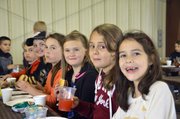 The year-end barbecue for the Passport to Reading program rewarded 196 fourth and fifth grade students from East, Ridgeview, Sandrock and Sunset Elementary Schools Friday at the Moffat County Fairgrounds picnic area. In addition to food and activities, prizes went to to the top readers.
Passport to Reading results
196 fourth and fifth grade students from East, Ridgeview, Sandrock and Sunset elementary schools qualified for the year-end barbecue by earning at least 20 stamps — each representing one book — in their program passports, a total of 5,578 stamps during the school year.
Name — Number of stamps
Grand Prize winner
Kaia Gunderson, Sunset — 169
Top readers by school
• East
Halle Hamilton — 57
Sophie Hough — 42
Celeste Duarte — 41
Grisel Moriel, Reina Steele — 36
* Due to a miscalculation, Hamilton was originally not recognized as the top reader but will receive a prize later.
• Ridgeview
Tara Brumblow — 70
Logan Hafey — 42
Carson Miller, Olivia Profumo — 41
• Sandrock
Maria Rodriguez Perez — 50
Holden Beckett — 46
Coltyn Terry — 33
• Sunset
Emma Jones — 78
Alexa Neton — 77
Chris Cox — 49
Most improved readers by school
• East
Fourth grade — Alexis Trevijo
Fifth grade — Makayla Hartung
• Ridgeview
Fourth grade — Bubba Harding
Fifth grade — Kimber Wheeler
• Sandrock
Fourth grade — Javan Reece
Fifth grade — Eduardo Olivera
• Sunset
Fourth grade — Dredik Schiro
Fifth grade — David Santos
The elementary school program Passport to Reading hosted its year-end barbecue Friday at the picnic area of the Moffat County Fairgrounds, with 196 kids from East, Ridgeview, Sandrock and Sunset Elementary Schools able to join in the activities.
The admission was a specially designed passport given to fourth- and fifth-graders at the beginning of the school year, with stamps representing different literary genres. Everyone who received 20 or more stamps throughout the course of the year was able to attend.
In its second year, the participation in Passport to Reading saw some different numbers. On the one hand, the total amount of stamps collected was down a bit, with 5,578 compared to 2013's 5,733. Conversely, the amount of kids who hit the 20-stamp mark went up to 196 from last year's 158.
Organizer James Neton said the greater number of kids reaching their goal is more encouraging than a handful of students each getting an enormous tally of stamps.
"They were really excited about it, and the teachers did a lot to support it," he said. "We had more make it, so that's a great success."
The windy weather occasionally threatened rain Friday, but students were too revved up by the lineup of outdoor activities, which included a tug-of-war, three-legged races and variations of the classic game of tag.
They worked up an appetite for the hamburgers, hot dogs, chips, cookies and more served up by members of the Rotary Club of Craig, which also providing funding for Passport to Reading, along with Friends of Moffat County Education and Moffat County United Way Human Resources Council.
"We couldn't do it without them," Neton said.
Neton went on to announce the top readers of the program from each school, as well as the most improved readers of each grade, students whose teachers had noted considerable progress in their literary acumen from September to the present.
Prizes included gift certificates for Downtown Books, as well as an iPod Shuffle for the top readers of the schools.
As the top overall reader of the program for the year, Gunderson, a student of Sunset teacher Verla Haslem, received an iPod Touch complete with an accessory kit, the end result of 169 stamps.
"I was all surprised," Gunderson said about the recognition.
Finishing the books wasn't the hard part — it was taking a test or compiling a presentation after each one that was more difficult. She said some of her favorite reads during the program were "Dragon Rider" and "The Strange Case of Origami Yoda," which features an unusual twist on the characters of "Star Wars."
Although she learned a lot about the Japanese art of paper folding, recreating some of the figures was harder than it looked.
"It's almost impossible to make," she said.
Gunderson said she most enjoyed the games of tag and being able to play with her younger brother during the barbecue.
Teachers and administrators also were on hand throughout the day to see their students release some steam after months of hard work.
East Elementary fifth-grade teacher Marco Cuevas was right in the thick of the field day, leading the games. About 80 percent of the kids in his class qualified to attend.
"A lot of my students started out the year really not liking reading, but through this they were able to find book series they've really loved, and they've just kept getting stamps," he said. "They've got a newfound love for reading, and that's really good to see."
Contact Andy Bockelman at 970-875-1793 or abockelman@CraigDailyPress.com or follow him on Twitter @CDP_Education.