One thing you should never do while you're reading poetry: think about it.
Reading poetry — or reading anything — is an act that requires all five senses operating at their peak to create a complete feeling from the words on a piece of paper or on a computer screen.
So says a man who knows of what he speaks.
"You read with the hairs on the back of your neck," David Mason told a crowd of students Friday afternoon. "Reading is not intellectual; it's a bodily experience."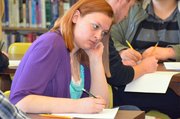 If you go...
Meet and greet with David Mason
9:30 a.m., Saturday
Downtown Books
— David Mason has written multiple essays, poems and memoirs and is the poet laureate of Colorado, a post to which he was appointed in 2010 for four years by former Gov. Bill Ritter. A poet laureate is appointed at the national level in many countries and within 44 states and the District of Columbia to act as an advocate for poetry and literature within their region in recognition of artistic excellence. Poets laureate of the United States include Robert Frost, Maya Angelou and, currently, Pulitzer Prize-winner Natasha Trethewey, who also is the current poet laureate of Mississippi. Colorado's poets laureate include Mason and, in the past, Thomas Hornsby Ferril, Mary Crow and, in an honorary position, the late singer John Denver.
Mason is the poet laureate of Colorado, a post that involves his promotion of the written form of expression to Coloradans of all ages. In his position as the state's poet laureate, he visits communities across the state and teaches a thing or two to those interested in verse.
In his first professional appearance in Moffat County, Mason held workshops Friday with students at Craig Middle School and Moffat County High School, as well as a presentation at Colorado Northwestern Community College.
Mason also is a professor of English and creative writing at Colorado College in Colorado Springs. Poet laureate isn't a distinction that comes with a paycheck, but it's one he has been honored to hold for a four-year stretch since being selected in 2010 by former Colorado Gov. Bill Ritter.
In his job, he consults with students from all different walks of life on their poetic aspirations, and though he acknowledges that anyone from anywhere can follow the discipline, some may have unfair advantages.
"I've been in some of the inner-city schools and richer schools, and it's really pissed me off to see that kind of disparity," he said.
CMS and MCHS fall nicely in the middle, he said. Several hundred CMS students gathered in an assembly to listen to Mason, but MCHS was a different story, with a smaller but more intimate turnout of about 30 in the school library.
Other schools' student bodies haven't been as attentive.
"You could tell they were there because they wanted to be there," he said of the MCHS students.
Mason started by challenging the students to visualize the urban scene from T.S. Eliot's "Preludes" based purely on the language it contained.
"Reading is like making a movie in your head," he said.
He urged the crowd to focus more on the mental picture in their heads than on the possible subtext.
He followed this by asking everyone to jot down 10 places that were most important to them, then start crossing out entries until only one was left. Students received a surprise when he requested that they put together a poem based on the first place they crossed off their list instead of the one that remained.
When asked why they thought the first crossed off was most telling, he received numerous reasons — "it's too personal," "it's not as important" or "it's too scary."
Some of the best poetry comes from scary and uncomfortable moments, Mason said, referring to his own poem published in "The New Yorker," which was inspired by a difficult experience assisting his aging father in the bathroom.
Freshman Marlayna Sparger was one of the few who was willing to read her work aloud, an untitled piece she wrote within a timeframe of only a few minutes.
"He was stuck/
running inward and outward/
Of consiciousness.
Gradually, he tried to squirm/
Out of a remotely dark cave.
His mind was screaming;
Screaming for him to try.
He does not try.
His mind and body slowly —
Gave up. As he faded into another dimension."
Sparger said she wrote from a masculine perspective because it allowed her to distance herself from the emotions tied to the words.
"It's how I feel when I'm depressed," Sparger said. "It's what happens if I overthink life and when I was younger and how fast life has gone by."
Sparger said this was one of her first serious attempts at poetry.
Mason praised her work, as well as a fragment of writing from sophomore Ian Day.
Day, who composed part of his poem, "The Sands of Time," before the workshop, said he thought Mason offered good advice to burgeoning writers, such as the truth in the adage, "Write what you know."
"If you're writing about something you don't know anything about, you could make a real mess," Day said.
More than anything, Mason emphasized that poets-in-training create and grow even against the tide of people who "denigrate the imagination."
"Those people are damn fools," he said.
Contact Andy Bockelman at 970-875-1793 or abockelman@CraigDailyPress.com or follow him on Twitter @CDP_Education.