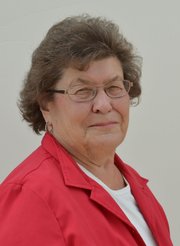 Blueberries are a favorite at our house. This week's column features a cheesecake with blueberry pie filling spread over the top. Although I haven't tried it, I think that you might substitute another kind of pie filling — like cherry, for example.
I have not baked apples for awhile, but they are delicious. We always eat them as dessert and enjoy them with cream or ice cream.
These recipes came from my old recipe book that has been used so much that the front and back pages are missing; in fact, the book starts of page 21. (I have an old college dictionary that's a partner to the recipe book. It's perfectly good to use if you don't need to find words that begin with "A" or "X, Y or Z.")
Do you have recipes that you would like to share? Send them to me at P.O. Box 415, Craig, CO 81626, or you can call me at 970-824-8809.
Blueberry Cheesecake
2 cups of all-purpose flour
1 cup butter
1 cup pecans
8 ounces cream cheese
3 cups powdered sugar
1 (13-ounce) carton whipped topping
1 can blueberry pie filling
Mix together the flour, butter and pecans. The mixture will be thick. Spread in a 9x13-inch baking dish. Bake for 15 to 20 minutes in an oven preheated to 350 degrees. Let cool. Cream together the cream cheese and powdered sugar. Fold in whipped topping. Spread evenly on the cooled crust. Spread the pie filling evenly over the cream cheese layer. Cool in the refrigerator 4 to 6 hours before serving.
Baked Apples
6 cooking apples (examples are Winesap and Rome Beauty)
1 cup granulated sugar
4 tablespoons all-purpose flour
Butter
Pare the apples, cut them in half and arrange them in a buttered 8x12-inch dish. (Or I take out the stem and seeds but leave the apple whole and unpeeled and place the apples in the dish.) Mix the sugar and flour and sprinkle over and around the apples. (If you leave the apples whole, put the mixture inside the apples.) Sprinkle with cinnamon to taste. Dot each apple with about 1/4 teaspoon of butter. Add water in the dish to about ¼-inch depth. Bake in a 350-degree oven for about 30 minutes. Baste the apples with the sauce that forms in the bottom of the dish and add more water if the sauce is too thick. Continue baking about 15 to 30 minutes longer, until the apples are tender. (Check with a fork.)