Ever wanted to know your cholesterol numbers but didn't want to have to make a doctor's appointment first? At The Memorial Hospital's Lab Direct, you can. And it won't cost you much, either. Several walk-in, direct pay tests are available seven days per week.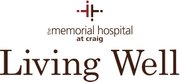 TMH Lab Direct
The Memorial Hospital has a walk-in lab offering direct services to the community. No doctor's order needed, no insurance claim filed, no high cost. You decide, you pay and you get the results. It's that simple.
Where: The Memorial Hospital, 750 Hospital Loop, Craig
What: Direct, affordable lab tests (visit www.thememorialhospital.org for a complete list)
Cost: $15 to $40
Call: 970-826-2270
Besides cholesterol, you can check your blood cell counts, receive a comprehensive metabolic panel, PSA, TSH, hemoglobin AIC, iron, ferritin, high sensitivity CRP, uric acid and get your blood type or find out if you are pregnant. That's a lot!
TMH Lab Direct allows patients to receive basic diagnostic laboratory tests without needing an order from a health care provider. Test results are mailed directly to the patient only. No appointment is necessary, and payment (ranging from $15 to $40) is due at the time of service. Insurance is not billed.
"We wanted to provide a convenient and affordable way for people to conduct lab tests on their own. We do recommend they share results with their doctor, but it's up to them," Lab Director Kristine Cooper said.
TMH operates two labs — one is located in the hospital (including Lab Direct), and the other is located at the medical clinic. Lab services are available 24/7 for patients staying at the hospital. Lab Direct is open to the public from 8:30 a.m. to 5 p.m. Mondays through Fridays and 6:30 a.m. to 3 p.m. Saturdays and Sundays. Staff members work hard to make sure the wait is less than 10 minutes. While Lab Direct is located in the hospital, you can get Lab Direct services from the TMH Clinic lab, as well.
"We take quality very seriously here at TMH. We evaluate quality in three phases: before the test is run, during the test and after the test. We perform quality control on all testing performed, and we have oversight from a board-certified pathologist, Dr. Frank Holmes, with Pathology Associates of Roaring Fork Valley," Cooper added.
Sometimes, people are curious about their blood type. While it is not something routinely checked every time you get your blood drawn, you can walk in and get your blood typed for $20 at Lab Direct. Or you can ask your doctor to write an order for blood typing.
"Anytime a person needs a blood transfusion, we of course perform blood typing to make sure we make a compatible match," Cooper said.
Through Bonfils Blood Center, the lab ensures they have fresh blood available for patients, rotating stock every week. Bonfils conducts community blood drives on a regular basis. Bonfils also conducts testing for hepatitis B and C, HIV 1 and 2, HTLV I and II, Trypanosoma cruzi (Chagas disease) and West Nile.
"Bonfils follows strict FDA regulations for collection of donor blood and testing," Cooper said.
If you need a more specialized test, don't worry — you won't have to travel to get it. The TMH Lab draws blood for several specialty tests and then sends them to the Mayo Clinic or Valley View Hospital in Glenwood Springs.
"Results usually come back in two to five days," Cooper said.
To learn more about specific tests and costs offered by Lab Direct, visit the TMH website at www.thememorialhospital.com and select lab. It's nice to know you can take charge of your health.
This weekly article with tips on living well is sponsored by The Memorial Hospital at Craig — improving the quality of life for the communities we serve through patient-centered health care and service excellence.