— Kids, Cancer & Cowboys is a charity designed to bring children with cancer to Moffat County to experience a Western lifestyle and forget about their disease. For more information on how to contribute, visit kidscancerandcowboys.org or the group's Facebook page or call 970-275-0255.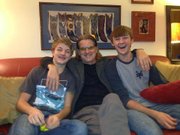 Craig — In February 2012, Keith Brennise received the most difficult news of his life.
A snowmobile accident had left him shaken, but a medical examination revealed something much more severe — advanced cancer of the prostate. As he began treatments, Brennise experienced anger and fear, but meeting a fellow patient who was in the same situation allowed Brennise to see how he could turn his own ailment into a blessing for others.
Brennise is the president of the non-profit organization Kids, Cancer & Cowboys, a program intended to give children diagnosed with cancer the chance to experience the Western lifestyle and brighten their attitudes about facing the disease.
"We want them to learn that it's entirely possible to live with cancer and accomplish amazing things at the same time," he said. "Fun can overcome the power of fear."
Brennise first got the idea when he met a 12-year-old boy named Robert who was also experiencing cancer treatments.
"He had brain cancer, and he'd lost all his hair, but he always had a smile on his face," Brennise said.
The two became good friends, discussing the fun activities they hoped to do once they were out of a medical environment. Robert's family was planning to visit Disneyland, while Brennise intended to "play cowboy" on the family ranch, detailing what that involved to the curious kid.
It wasn't long after that when Brennise learned Robert had lost his battle with cancer. Robert's mother told Brennise that Robert's final wish was to play cowboy.
Just speaking about the details of Robert's story caused Brennise to get choked up emotionally, though not as much as when he first heard the sad news.
"This little boy touched my heart," he said.
Now, Brennise and his organization seek to make Robert's dream happen for other children.
As spring approaches, Kids, Cancer & Cowboys will be working to renovate further Moffat County's Kelly Lodge, which was originally built in the 1890s as a 7,000-square-foot horseshoe-shaped building and is rumored to have hosted Pres. Theodore Roosevelt as a guest.
The Brennise family's property also sits adjacent to the location.
Brennise said there will be multiple activities available for kids and their family members who attend, like horseback riding, ATV rides, fishing, shooting and hiking.
Brennise estimated that such a project would normally require a budget of about $1.2 million to $1.4 million, however, with so many materials and services donated, the organization has cut that down to about $450,000, most of which already has been raised.
Another $25,000 will get the group to its goal.
Craig businessman Darrell Camilletti said he plans to contribute to the cause.
"I think it'll be great to have something like that in the area," Camilletti said.
The work already completed on the project has been exhausting for Brennise. It has included rebuilding a nearby bridge over the South Fork of the Williams Fork River to make access easier. However, being able to put in so much effort only reminds him of the importance of not letting cancer rule his life.
"I live each and every day to the fullest, and I'm thankful for every morning I wake up and see my toes wiggling," he said.
Contact Andy Bockelman at 970-875-1793 or abockelman@CraigDailyPress.com.