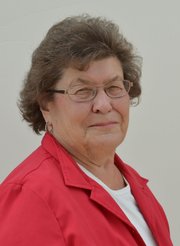 Suddenly, it's Jan. 4. The holidays have come and gone. We've dined on turkey, prime rib, ham and all kinds of sweets. Now, if you're like me, you may want to fix something entirely different — like a casserole, perhaps. This column features two casseroles.
The first casserole calls for canned chunky chicken, but you might substitute leftover baked chicken or even turkey.
The second casserole is a variation on "Tater Tot Casserole" in which uncooked ground beef, mixed with a little chopped green pepper and onion, is patted into the bottom of a 9x13-inch dish. It's covered with cream of mushroom soup and shredded cheddar cheese. Tater Tots are arranged on top. It's then baked.
I have not made this week's "Mexican Tot Casserole," mostly because I do not care much for taco seasoning.
During the weeks before Christmas, Iva Decker was looking for red hot candies to mix in with her lime popcorn balls. Janice Brown, of Craig, called to tell me that red hot candies can be found in theater boxes at Walgreens. Then Donna Derrico, of Baggs, Wyo., called. She buys her red hot candies at the Dollar Tree. And then I bought a package of the candies at City Market, in the discount Christmas candy aisle. Valentine's Day is coming up. If you need some of these candies to make a special treat, you can look at these stores. Thanks to all of the callers.
Valentine's Day will be here before we know it. What are your favorite cookies, candies, or other Valentine treats?
Call me at 970-824-8809 or write to P.O. Box 415, Craig, CO 81626.
Happy new year!
Chicken Casserole
2 (7-ounce) cans white chunky chicken
1 tablespoon chopped onion
1 can cream of chicken soup
1 can cream of mushroom soup
1 small (8-ounce) can evaporated milk
1 (6-ounce) can chow mein noodles
1 (4-ounce) can mushrooms (save some to sprinkle on top)
Preheat the oven to 350 degrees. Mix the ingredients together. Put the mixture in a greased casserole dish and bake at 350 degrees for 45 minutes.
Mexican Tot Casserole
1 pound ground beef
1 small onion
1 package taco seasoning
1/2 cup water
1 can cheddar cheese soup
Tater Tots
Brown the ground beef with onion. Drain. Stir in seasoning and water. Put in a 9x9-inch or 11x7-inch casserole pan. Spread cheddar cheese soup over the top. Put Tater Tots on top. Bake at 350 degrees for about 30 minutes.
Note: As with all Tater Tot recipes, you may add vegetables to the hamburger mixture, Suggestions are whole kernel corn or kidney beans. Shredded cheddar cheese may be sprinkled over the Tater Tots. Add 5 minutes of baking time if you add vegetables.