If you go…
Moffat County High School spring play — "The Cat in the Hat"
6:30 p.m. Thursday and Friday; 2 p.m. and 4:30 p.m. Saturday
MCHS auditorium, 900 Finley Lane
— Tickets for the production are $5 per person or $10 for VIP seating and can be purchased in advance at moffattickets.org, which also sells hats and t-shirts related to the show. Tickets can also be purchased at the door with cash or a credit or check card. For more information, call 970-824-7036.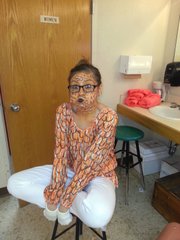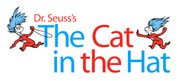 The stage is set — with strips of red and white vinyl flooring and backgrounds that look eerily familiar to your favorite childhood memories.
Come one, come all to the Moffat County High School production of "The Cat in the Hat." The Dr. Seuss story will come alive with performances Thursday and Friday nights and two Saturday matinees.
The cast and crew have been hard at work for nearly two months creating a show that will be entertaining to children of all ages. Director Christina Wilcox said she is hoping to see a great turnout of families, with a play that is custom-made for a young audience.
She also advised that people purchase tickets in advance whether online or at the school, both to beat the crowds and for organizers to get an accurate idea of the number of people circulating through the auditorium.
Additionally, those interested can buy T-shirts commemorating the production, as well as the headgear worn by the famous feline. Parts of the set also will be on sale following the show's run, and promotional materials will be part of an ongoing silent auction.
Nerves about the show are a little less after last week, when students from Hayden and Baggs, Wyo., were able to get a sneak peek.
Senior Faith Christiansen, who plays one of the mischievous, nameless Things, said she enjoyed interacting with kids.
"They were tripping over themselves to come shake hands with Thing One and Thing Two," she said. "To see all their different reactions was a lot of fun."
Craig Middle School eighth-grader Jeremy Looper and MCHS sophomore Shannon Hill play two of the title character's kitten cronies, who do his bidding as he creates chaos and a huge mess in an average household.
As with all parts in the play, the concept of overacting is non-existent as actors add more and more to their performances, a process which Looper described in one word — "exhausting."
"The set was especially hard to do," he said.
All members provide work with props in the show, Hill said, adding that the show gives everyone involved the chance to bond when they're not on call.
"Everyone's outside their comfort zone, and it's fun to be around people like that," she said.
Contact Andy Bockelman at 970-875-1793 or abockelman@CraigDailyPress.com.