If you've got the time and the interest, this spring might be the opportunity for that excursion abroad you've always wanted. But there's only a small time frame to take advantage of this deal.
There still is time to sign up for Colorado Northwestern Community College's trip to Spain from May 14 to 22. The cost is $2,850 and includes airfare, lodgings, breakfast at the hotels and local transit. The deadline to register is March 1. For more information, call Mary Karen Solomon at 970-824-1114, Kathy Simpson at 970-824-1122 or David Johnson at 970-824-1120.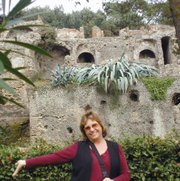 As part of its annual series of trips to Europe, Colorado Northwestern Community College will be helping the people of the area make their vacation dreams come true. More accurately, vacación, as the destination for this year is Spain's Catalonia region, where participants will tour the cities of Barcelona and Girona.
There still are two slots available for the trip, which is scheduled from May 14 to 22, and the deadline to sign up is March 1. Those eligible for the program include adults as well as high school students currently taking classes with CNCC.
The overall cost is $2,850 for the eight-day journey across the Atlantic, which includes airfare from Denver, four-star accommodations, morning meals and passes for getting around the cities.
Organizer Mary Karen Solomon, who detailed the trip in her January column about happenings at CNCC, said the visit to Spain will be one rich in history and culture for all travelers.
Among the sights to behold is the Cathedral of Saint Mary of Girona, which was constructed in the Romanesque style in the 11th century after a lengthy history of conflict at the site. It was a primitive church and then a mosque many centuries ago, until the conquering of Girona by Charlemagne when it was reconsecrated. One of the building's two bell towers is entitled to the King of the Franks.
The cathedral also has the second-widest nave — or main body — in the world after St. Peter's Basilica and the widest in the Gothic style.
However, there's more than enough time in the itinerary for participants to explore on their own, Solomon said. The purpose is to have a mix of individual and group activities.
"It kind of bonds you together when you travel together," she said. "It's a good way of making new friends. People like the camaraderie."
CNCC has traveled to European countries regularly, nearly each year since 2000, visiting Greece, England, Scotland, Ireland, the Czech Republic and more.
Craig resident Julie Hanna made her first trip overseas to Italy and France through the program, an experience she thought was life-changing.
"It feels juvenile to say, but everything over there is so old, and you're walking in the same streets where people walked thousands of years ago," Hanna said.
Hanna said she recommends the trip to anyone, whether they're a novice world traveler or already have been to a few international locations. Unfortunately for her, she won't be able to work the Spain trip into her schedule, though she expects to return to the European continent one of these days.
"I'm very envious of whoever gets to go," Hanna said.
Contact Andy Bockelman at 970-875-1793 or abockelman@CraigDailyPress.com.