Photo Gallery
Connections 4 Kids Cherish the Little Things art show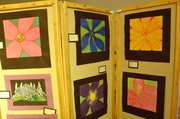 The third annual Connections 4 Kids art show will take place Thursday, Friday and Saturday at Center of Craig and will feature more than 300 artworks by Moffat County youths.
If you go…
Cherish the Little Things art show
3 to 6 p.m. Thursday; 2 to 6 p.m. Friday; 10 a.m. to 8 p.m. Saturday
Center of Craig, 601 Yampa Ave.
— The show features more than 300 pieces of art from children of all ages and also includes art activities from 10 a.m. to 2 p.m. Saturday. Attendees can vote for their favorite artwork to go on the cover of the upcoming Connections 4 Kids calendar by monetary donation. For more information, call 970-824-1081.
If you go…
19th annual Art Walk and 8th annual Taste of Chocolate
5 to 8 p.m. Saturday
Downtown Craig
— The event will feature local artists and musicians throughout downtown businesses, as well as various chocolate dishes. Tickets for tastings are $12 apiece and can be purchased at KS Kreations, Favorite Things and The Kitchen Shop.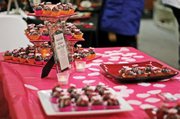 There's no age limit on what makes a great artist. For that matter, there's no rule defining art as purely visual, because the other senses can play into the experience just as well.
Enjoy a treat for your eyes as well as your ears, nose and tongue with multiple events this week, including the third annual Cherish the Little Things art show and downtown Craig's 19th annual Art Walk and eigth annual Taste of Chocolate.
Cherish the Little Things, sponsored by Connections 4 Kids, will showcase 309 artworks from Moffat County students from preschool through high school Thursday and Friday afternoons and all day Saturday at the Center of Craig. Besides displaying the many talents of local kids of all ages, the event also serves as a fundraiser for Connections 4 Kids.
The judging panel for the show has narrowed down 20 of the top paintings and drawings from artists as old as fifth grade for its upcoming calendar, but it's up to community members to pick which will go on the cover. People can vote with monetary donations for their favorite entry.
Last year's show brought in more than $9,000 altogether in addition to providing parents the opportunity to have their children's masterpieces somewhere beyond their own refrigerator door.
"They enjoy seeing their kids' art displayed in a setting like this, and it's especially exciting for the kids," Connections 4 Kids Coordinator Betsy Overton said.
Kids can also participate in free art workshops Saturday, getting the chance to decorate masks, paint ceramics, work with modeling clay or do other forms of art.
Cherish the Little Things will also play host to another event Saturday as part of the route of downtown Craig's Taste of Chocolate.
Confectioners offering a variety of chocolate dishes will be available at multiple Craig businesses along Yampa Avenue and Victory Way. While people are sampling the sweets, they also can get a glimpse of artworks provided by Craig locals during the simultaneous Art Walk, which also will include a great deal of local musicians, said organizer Nadine Daszkiewicz.
"We've got a lot of them this year, which is great," she said.
The combination of Art Walk and Taste of Chocolate makes for a great pre-Valentine's Day couples night, she added.
Tickets for the tasting portion of the event are limited to 125 and are best purchased before the last-minute rush. And, though admission may be finite, the delicious food in question definitely won't be in short supply once the weekend comes.
Daszkiewicz said she still is receiving entries from people wanting to be part of the culinary action.
"You can never have too much chocolate," she said.
Contact Andy Bockelman at 970-875-1793 or abockelman@CraigDailyPress.com.