They've got some time before they make it to the NFL, college, high school or even middle school levels of the game, but the young competitors of Doak Walker football are getting familiar with the feel of the grass, the sensation of getting knocked around a bit and the pride that comes from playing your hardest.
Photo Gallery
Craig Parks and Recreation Doak Walker Football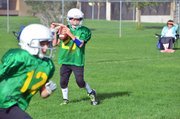 The annual tackle football program for grades three to six has begun, with games Tuesday and Wednesday afternoons at Woodbury Sports Complex.
Craig Parks and Recreation Doak Walker football — Week 1 results
Fifth and sixth grades
Cook Chevrolet Broncos vs. Hertzog Photography Packers — 7-0
Craig Daily Press Vikings vs. Boy-Ko Supply Saints — 19-12
Hayden Tigers vs. Victory Motors Chargers — 19-6
— All games are at 5:15 p.m. Tuesdays at Woodbury Sports Complex.
Third and fourth grades
Three Sons Construction Broncos vs. Clarion Inn & Suites Raiders — 20-12
Intermountain Appliance Chargers vs. Craig Police Department Titans — 33-6
Masterworks Mechanical Saints vs. Hayden Tigers I — 20-0
— Hayden II had a bye week. All games are at 5:15 p.m. Wednesdays at Woodbury Sports Complex.
The Craig Parks and Recreation tackle football program — named in honor of the late Northwest Colorado resident and Detroit Lions legend Doak Walker — began its fall season this week, as kids in grades three through six took to the fields of Woodbury Sports Complex on Tuesday and Wednesday suited up on teams with the likenesses of the Broncos, Packers, Raiders and other pro franchises, sponsored by local businesses.
The league's schedule will run through mid-October and consists of six teams for the fifth and sixth grade bracket, one of which is from Hayden, and five Craig teams and two Hayden teams in the third and fourth grade division.
Chad Lawton, co-coach of the third and fourth grade Titans, has worked with both age groups.
"It's brand-new to some of them," he said. "It can be hard to get them to listen, and it's a challenge for them and the parents, but it's good for them to learn how to focus and concentrate."
Some elements of the game are different — with no goal posts in place at Woodbury, kicking for field goals or extra points doesn't happen, but most of the fundamentals stay the same.
"They learn it now and they can go from there," he said.
The Titans took one of the biggest beatings of the opening week from the Chargers, whose 9-year-old running back Bryant Carlson amassed four touchdowns.
"I like being on offense," Carlson said, adding that he enjoys handling the ball.
As with any level of the game, fumbles and bad snaps are not uncommon as players perfect their abilities, but when everything goes right, a rush that traverses the entire field is a sight to see as parents and other spectators go crazy for their kids.
For coaches with their own progeny on the roster, sharing the experience is twice as nice, as in the instance of Cole Musgrave and his son, Alex, on the fifth and sixth grade Viking squad.
The Vikings, who have the sole participating girl in the co-ed program, Emily Gonzales, as their quarterback, found their first win Tuesday over the Saints.
"We've got a good little team here," Cole said. "They're really coming together nicely."
Contact Andy Bockelman at 970-875-1793 or abockelman@CraigDailyPress.com or follow him on Twitter @CDP_Sports.