Craig — The stadium lights blazing through the autumn sunset. The sound of hometown fans screaming and cheering for their beloved team. The surge of adrenaline that starts at kickoff and doesn't leave your body until the final whistle blows.
Simply put, there are a lot of great things about being a football player.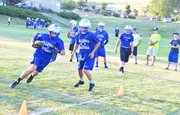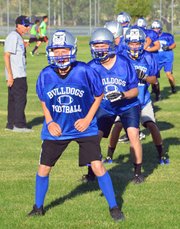 2014 Moffat County High School varsity football schedule
Date — opponent, home/away
Aug. 29 — Steamboat Springs, away
Sept. 5 — Ridgeview Academy, home
Sept. 12 — Gunnison, home
Sept. 26 — Battle Mountain, home
Oct. 3 — Basalt, away
Oct. 10 — Coal Ridge, home
Oct. 17 — Aspen, away
Oct. 24 — Roaring Fork, away
All games take place at 7 p.m. and are subject to change.
2014 MCHS junior varsity schedule
Date — opponent, home/away
Aug 28 — Fruita, away
Sept. 2 — Grand Valley, home
Sept. 8 — Steamboat Springs, away
Sept. 22 — Meeker, home
Sept. 29 — Steamboat Springs, away
Oct. 13 — Meeker, away
Oct. 16 — Coal Ridge, away
Oct 20 — Aspen, away
All games take place at 4 p.m. and are subject to change.
The Moffat County High School football team's season officially has begun, and amid a great deal of changes, players remain ready to do what they love more than anything: Grab the pigskin and do their school proud.
The team has been resituated in the 2A bracket of the Western Slope League this season, which means opponents they'll battle for postseason honors include Aspen, Coal Ridge and Roaring Fork in the North subdivision of WSL.
This was an alteration long in the making, but the assembly of a new coaching staff was more recent. Head coach Keith Gille took over the football program earlier this summer, jumping into the job with the first day of practices mere days after being hired.
"It feels like it was just yesterday," he said about the whirlwind that has occurred in the past few weeks.
Gille, a new English teacher at the school, is joined by Mike Mitchell, also the athletics and activities director for MCHS; Jeff Wert, a fellow teacher; and community member Mike McCleery, who was one of Moffat's 1967 state competitors, the Bulldogs' sole appearance at that level in the history of MCHS.
Gille, with playoff dreams already in mind, said he sees no reason why such an accomplishment can't happen again.
"We firmly believe in the growth of this program, and the sky's the limit," he said. "This is our town, our team, and my expectations are that we grow as students, as athletes, as a football team, as a community."
Even so, the motto "One game at a time" remains, though Gille admits it's a cliché.
Tried and true methods and sayings have their place, but MCHS's coaches are putting forth a whole new playbook this season to utilize the team's rushing abilities to their full potential while still developing the passing game, all the while staying on top of defense and not letting special teams fall by the wayside.
New traditions also are being established, such as a pre-game dinner with the entire team the night before they take the field. Details such as which color socks are worn with players' uniforms are treated seriously because without the unifying elements, the mindset of the team becomes that much less important.
The Bulldogs fine-tuned their play earlier this week leading up to their season opener Friday night in Rifle.
Among team leaders were Stelios Peroulis, whom Gille referred to as a "defensive anchor," as well as quarterbacks Matt Hamilton and Keenan Hildebrandt. The two, a senior and a sophomore, respectively, will alternate heading up the offense.
Hildebrandt, also a running back, said the changes have been easy enough to adjust to, with he and his teammates setting their sights on excellence.
"I think it's going to be a good season," he said.
Sessions are tough but full of energy for Hildebrandt and crew when they're on the practice field, especially when Gille and Mitchell throw around a lot of chatter, referring to their quarterback as "Hildy."
Other nicknames are a little more creative, such as Paul Newman character Fast Eddie Felson being the namesake for speedster "Fast Eddie" Smercina. Mikinzie Klimper goes by "Pinky Tuscadero," owing to his colorful hot pink footwear.
"It just makes it a lot more fun," he said about the jocular breaks from the workouts.
Klimper, a freshman and a backup tight end for the varsity squad, said he's looking forward to all the new aspects of this season.
"It's good to keep it fresh instead of just doing the same thing over and over again," he said.
Freshman Chace Marshall said he appreciates the blend of old and new this year. Serving as the junior varsity quarterback and working his way up to varsity, the beginning of the highest level of local football is something he's envisioned his entire childhood.
"Being able to suit up for the high school, I've dreamed about it for years," he said.
Contact Andy Bockelman at 970-875-1793 or abockelman@CraigDailyPress.com or follow him on Twitter @CDP_Sports.