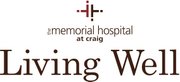 Patient safety presentation
The Memorial Hospital is pleased to welcome nationally recognized speaker Ridley Barron. Ridley's presentation "Every 1/2 Second Counts" is a moving story about the life changing impact of a medication error. Ridley presents a victim's perspective about patient safety and offers professional suggestions on how to improve the quality of patient care.
When: 7 p.m. Tuesday
Where: Moffat County High School auditorium, 900 Finley Lane
Cost: Free
For more: Contact Jennifer Riley at 970-824-9411 or jennifer.riley@tmhcraig.org.
Craig — A buzzword in health care these days is "patient-centered." It signifies a positive trend to put patients first. Gone are the days when you sat on the examination table and kept your mouth shut as your doctor took a look and then quickly summarized the situation. Today, you are encouraged to ask questions.
"By asking questions, patients demand quality, and we are all better for it. The next time you are in the hospital, speak up. Ask for what you need to know about care and safety. Ask for what you need to be comfortable," advised Beka Warren, RN, chief quality officer for The Memorial Hospital.
Most hospitals have patient safety measures in place along with quality initiatives to make sure high standards of care are met.
"Pick almost any aspect of care, and it has a safety component. Each department in a hospital has its own standards of care and quality guidelines that they follow for patient safety," Warren said.

For example, at TMH, staff go through a protocol before each and every surgery in the operating room to avoid one of the top patient safety challenges outlined by the National Patient Safety Foundation — that of wrong site surgeries.
"Everyone in the room stops and takes a timeout. Out loud, the surgeon says the patient's name, what surgery they are performing and other vital information specific to the patient. It's our way of making sure we have the right patient for the correct procedure every time," Warren said.
Another top patient safety challenge, according to the NPSF, is medication errors. TMH is sponsoring a talk by national speaker and author Ridley Barron on Tuesday. Barron will tell his personal story of surviving a medication error and all the struggles and challenges it brings (see box).
Just this week, TMH implemented bar code scanning — a best practice for avoiding medication errors. Patients are given wristbands with bar codes. Before patients receive medication, their wristbands are scanned to ensure they are getting the right medicine at the right time.
Another common patient safety challenge for hospitals is preventing falls. Patients might fall because of mental and physical impairments, frailty or confusion. National benchmark data shows that nationally, 1.5 of every 100 patients will experience a fall during their hospital stay, but that number is lower at TMH at .58 of every 100 patients, or about half of a percent.
"Hospitals are very concerned with preventing falls as they can be devastating for patients," Warren said.
TMH has several policies and protocols in place to prevent falls, including the "Falling Star" program where an image of a yellow falling star is placed on the door of a patient at risk for falling. That way, all staff know to be extra cautious and to make sure they meet the patient's requests immediately. The patient also is informed of his or her high-risk status and is encouraged to ring a bell if he or she feels unsteady or if needs help getting up to go to the bathroom.
One of the biggest patient safety issues hospitals face is preventing infections during hospital stays. Hospitals implement hand-washing programs, needleless IVs and more to prevent infections. TMH's infection rates are well below the national average.
If you ever think a condition is unsafe or a practice is flawed during a hospital stay, speak up.
"Ask the nurse, 'Do you have an aggressive hand-washing policy? Do you have enough staff to care for patients? How do you prevent falls?' These are all good questions, and most hospitals like TMH that are focused on quality encourage patients to ask them," Warren said.
This weekly article with tips on living well is sponsored by The Memorial Hospital at Craig — improving the quality of life for the communities we serve through patient-centered health care and service excellence.