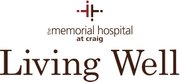 Patient Safety Presentation:
The Memorial Hospital is pleased to welcome nationally recognized speaker Ridley Barron. Ridley's presentation "Every ½ Second Counts" is a moving story about the life changing impact of a medication error. Ridley presents a victim's perspective on patient safety and offers professional suggestions on how to improve the quality of patient care.
When: Tuesday, Sept. 17
Time: 7 p.m.
Where: MCHS Auditorium – 900 Finley Lane
Cost: Free
Info: Jennifer Riley at 970-824-9411
<
p>jennifer.riley@...
>
Starting Sept. 10, if you're admitted to the hospital you most likely will be given a few different wristbands, one bar-coded for scanning. While it might seem like overkill, it's good protection against medication errors. TMH is implementing barcode scanning at the bedside. It means a safer visit for you.
"Barcode scanning addresses the 5 R's or rights of administering medications: right patient, right drug, right dose, right route and right time. Barcode scanning increases patient safety by verifying that medications about to be administered are correct and ordered by the patient's physician," said Dr. Kyle Miller, director of pharmacy at TMH.

Here's how it works: When you get admitted to the hospital you will receive a wristband with barcodes on it — much like the UPC codes you see on items at the grocery store. It provides an electronic link to your health record. Then, each time you receive a medication, the nurse completes three steps: she scans your wristband, scans the medication and enters her information. By doing so, she has created not only a record of the transaction, but verified that the drug she is about to administer is the right one and the right dose — and given just at the right time. She also has access to information on your personal history with medications, including reactions or restrictions.
"It takes a manual process and makes it automated, which greatly increases patient safety," Miller said.
Scanning the code at the bedside is key. According to the California Healthcare Foundation, 50 to 70 percent of medication errors historically occur during administration versus other stages in the process including ordering, transcribing and dispensing.
Imagine being a patient in a hospital and your nurse is rushed. She pulls the wrong medication off the shelf by accident. She gives it to you and you have a violent reaction. Your hospital stay just got more painful — and longer. Thanks to barcode scanning, this doesn't happen anymore. Today if the nurse scans the wrong medication, an alert will sound letting her know of her error.
"Bar-code medication administration, or BCMA, will also guide the nurse in the process to give the exact dose that was ordered for the patient," Miller added.
It also avoids errors such as healthcare providers entering the wrong patient's room or giving a medication that has expired from the doctor's orders list.
Barcode scanning works. A study by the U.S. Veteran's administration office found that barcode scanning reduced medication errors by 86.2 percent. This best practice exists in most hospitals today and many — as with TMH — have additional patient safety protections in place around medications.
"The Memorial Hospital has industry-leading medication and patient safety technologies in place to ensure the safest care possible. For example, we use such technologies as electronic health records (EHR), electronic medication administration records (eMAR) and computerized physician order entries (CPOE) on each and every patient. We also have a 24-hour pharmacist review process of medication orders, Smart Pump IV technology and automated dispensing cabinets. All these systems are in place to provide multiple checks before medication is given," Miller said.
So the next time you have to go to the hospital, rest assured; your risk for experiencing a medication error is nearly non-existent.
This weekly article with tips on living well is sponsored by The Memorial Hospital at Craig – improving the quality of life for the communities we serve through patient-centered health care and service excellence.